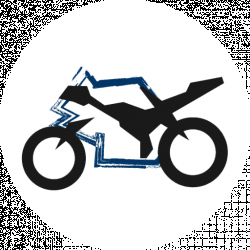 Latest posts by American Sport Bike Team
(see all)
When it comes to sportbikes, the 600cc segment is one of the most exciting. For more than a decade, they have been the most appealing motorcycles in the world.
There are plenty of options available, each with its distinct features. For many riders, sportbikes are the purest form of going fast on two wheels.
In this article, we will review and help you find out which model we select as the best 600cc sportbike option. We will feature models from the Japanese big four ( Honda, Suzuki, Kawasaki, and Yamaha) as well as  European competitors in the form of Aprilia and Ducati.
What type of 600cc Sportbike can you buy?
The kind of sportbike you want to buy depends a lot on the style you want. The main ingredients for this class of bikes are still unadulterated speed, the ability to chew up corners and dominate the track.
If you are new to motorcycles, some of the terms used to describe certain sportbikes can all be a little confusing. It can be beneficial to differentiate between a naked bike, a cafe racer, and a fully-faired sportbike. So to help understand the myriad of differences of all those terms, we've broken down the kinds of sportbikes you should know about.
Naked Sportbike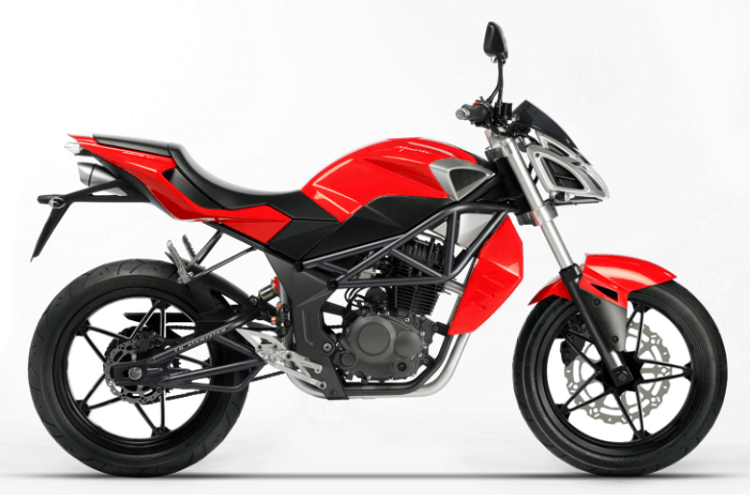 A naked sportbike sounds sexy, right? In reality, though, it's a little far from that. The term 'naked' refers to detuned versions of sportbikes with exposed engines and mechanicals.
That is, they lack fairings which usually hide most of the internals. Also known as standards, they are more versatile and road-oriented than their fully-faired siblings.
The differences go a little further than just looks. The riding position is slightly different. They have a more upright riding position to improve rider comfort. Think of it like a sportbike without clothes.
Cafe Racers
Cafe racers are a type of neo-classic sportbikes. Mimicking the design language of racing bikes from the 1950s and 60s, they're optimized for speed and handling with a sacrifice on rider comfort.
Usually, the bike is customized to make it more lightweight by stripping it of all non-essential parts. Other modifications include a seat that takes the form of a 'bum stop' to keep the rider on the seat when accelerating hard. The handlebar is either a clip-on that is mounted onto the motorcycle's front forks or ace bars. 
Fully Faired Sportbikes 
These are bikes that come from the factory with all the fairings installed. The fairings are not only for aesthetics but also for better aerodynamic performance when riding. They also protect the bike's engine components in case of an accident.
Faired sportbikes are primarily designed for track days and traveling at high speeds on highways. With a focus on performance, they usually have a higher top speed than their naked counterparts.
 The design is much more appealing than the other kinds listed, but that is determined by what a rider considers beauty to be. Faired sportbikes are tuned for maximum efficiency and are the ones you should look for is raw performance is what you're after.
Factors to consider when selecting a 600cc sportbike
If you ask around, many riders will tell you that sportbikes are the purest form of motorcycling. It is one of the cheapest ways to get between two places very quickly. You get the performance of some of the most expensive supercars in the world at a fraction of the cost.  
The 600cc segment of sportbikes is a strongly contested field by many reputable manufacturers. It is not easy for new riders to select a sportbike from all the options available. The same can be said for seasoned riders who are coming from a different class of motorcycles.
To streamline that decision-making process, we have put together a list of factors to consider before getting a 600cc sportbike.
By reading through our considerations, you will gain knowledge of what to look for in a sportbike. And more importantly, if it's worth spending your money.
Styling
Many of us get into motorcycles because of how head-turning and sexy they look. Since beauty is in the eye of the beholder, the strongest advice is to choose a sportbike that you will admire in the entirety of your ownership.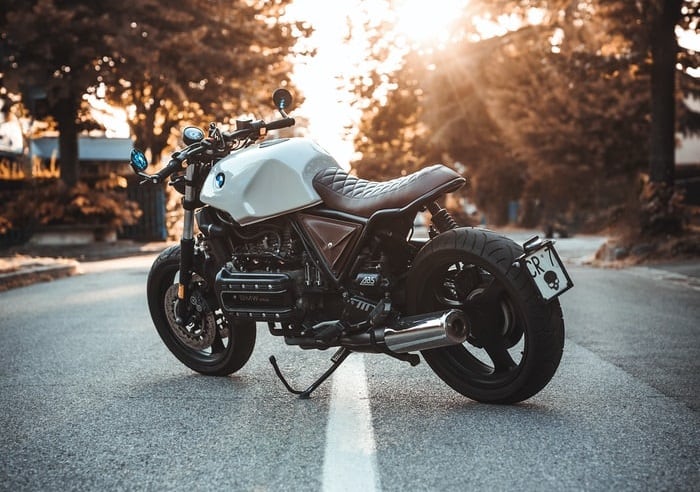 Style varies when you compare different models. Each manufacturer will want to highlight an aspect to make their model stand out from the rest. We are sure there is a sportbike out there for everyone.
Exhaust Noise
Some riders like to attract attention. Nothing appeals more to them than a rorty exhaust noise. However, not all exhaust notes are acceptable.
Others can only attract the ire of your neighbors or even get you into trouble with the law. Noise pollution can be a deciding factor in buying a new bike.
Different countries and locations have set laws that regulate just how much noise is allowable. Let's not dwell in all the negativities that pertain to, because a pleasing exhaust tone is a part of the thrill and enjoyment of riding.
Fuel Economy
It's wrong to assume that because a bike is 600cc, it consumes fuel with a pinched straw. The truth is sometimes very far from that. It all depends on the tune the manufacturer has specified for the bike.
An aggressive tune that prioritizes speed and performance may often mean a sacrifice on fuel economy. The size of the tank can also tell how far you can go on one tank. You wouldn't want to run out of gas just when you're starting to have fun.
Electronic Aids
Anti-lock brakes, wheelie control, power modes, and dynamic electronic suspension are all gizmos that have become commonplace on sportbikes.
It's nearly impossible to get a new bike without at least some of these technologies. They provide an extra layer of safety especially if you plan on riding in wet weather. 
These e-systems quietly compile data and step in only when needed and with minimal intrusion. However, these aids do not make you immune from the consequences of making bad decisions when riding nor do they substitute the need to gain riding experience. 
Wind Protection
Windshields are designed to protect the rider. They do so by pushing the wind around and away from the motorcycle.
If you plan to go for long rides or occasionally ride through bad weather, it is advisable to get a bike with sufficient wind protection. Prolonged exposure to the elements can be tough on your body, ending up in fatigue.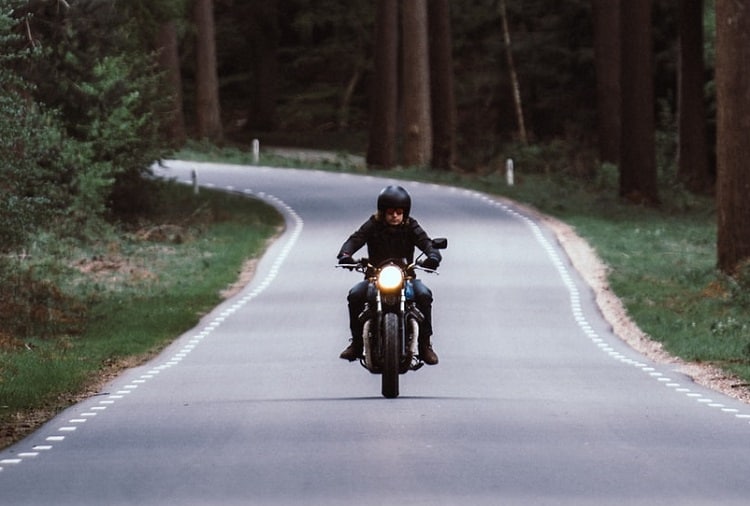 Naked bikes do not offer the same protection as faired versions. Their lack of wind deflectors often means they can be tiresome on long journeys. 
Price
Some bikes are impossible to ignore. Once you set your eyes on them, it's impossible to let go. That's when you fall victim to impulse buying.
You can avoid all that by being disciplined enough to stick to the set budget. Sometimes if you have the means, it's worth stretching the budget by a few extra bucks.
You never know what you may find in the market. On occasions, you can come across a motorcycle with better qualities than the one you had initially chosen. 
New or Used
Buyers are often confronted with the dilemma, Which one is the better deal? A brand new sportbike out of a dealer's showroom or a used one in great condition.
Both have strong points of their own. For instance, new bikes are equipped with all the latest rider-aiding technologies and come with a manufacturer warranty. On the other hand, used bikes are often cheaper. 
A novice rider who will likely drop the bike a few times as they learn how to ride is better off going with a used motorcycle. However, one is not assured about the care the previous owner dedicated to the bike.
6 Best 600cc Sportbike Options
Since there are many models to pick from in the 600cc category of sportbikes, we have decided to come up with a round-up of the six best sportbikes. All our selections are good on the track, great for commuters, and above all – renowned for reliability.
If you're looking for a rocket on two wheels, stick around because there's something here to suit you. These are our picks for the top 6 600cc sportbikes on the market.
#6. MV Agusta F3 675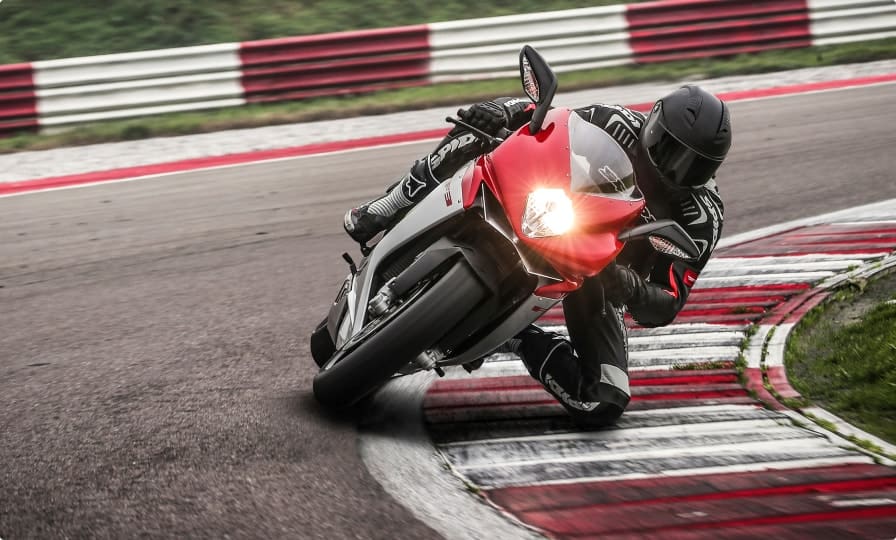 The F3 675 was introduced in 2012 and is the first bike to feature the MVICS system with a multimap Full ride by Wire.
Key Specs
Engine:

675cc, 3 cylinder, 4 stroke, 12 valve

Max Power:

128 hp

Max Torque:

70.5 nm

Top Speed:

258 km/h

Weight:

173.0 kg

Fuel Capacity:

16 liters
The MV Agusta F3 675 is powered by a high-revving 675cc 3-cylinder engine. It can rev to the highest limit achieved by 3 cylinder bikes. The level of performance achieved can only be rivaled by some 4 cylinder engines.
Nothing less than a trailblazer, the F3 675 is known to be one of the most powerful mid-weight engines fitted to a bike. It features four engine maps, one of which can be customized to suit the rider's style.
The ultra-advanced chassis is made from a mix of steel trellis and aluminum steel plates to maximize dynamic performance.
The F3 675 can carve corners with pinpoint accuracy thanks to the sharp chassis that maintains stability even in extreme lean angles. MV Agusta has gone to great lengths to deliver a truly striking design. This is why many consider the best-looking 600cc sportbike money can buy.
Pros:
Stunning bike to look at from all angles

Distinctive three-exit exhaust

Customizable rider power mode

Advanced electronics system
Cons:
Parts and labor are not cheap

Not the most comfortable on longer rides
#5. Aprilia RS 660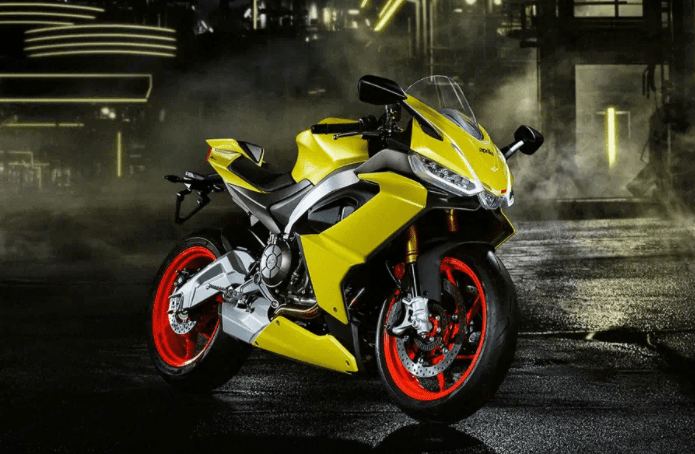 The RS 660 is Aprilia's middleweight puncher derived from the manufacturer's superbike division. It's a mix of track experience and stunning looks for a lightweight street bike.
Key Specs
Engine:

659cc liquid-cooled, 8-valve, parallel twin-cylinder

Max Power:

100 hp

Max Torque:

67 nm

Top Speed:

233 km/h

Weight:

182 kg

Fuel Capacity:

15 liters
Aprilia boasts of an impressive success story in the Road Racing World Championship. No other European manufacturer is close to their record for most wins in the history of motorcycle competition.
It's the technical know-how of road racing that Aprilia has dug deep into to produce the RS 660. Beneath the fairings is a 659cc engine producing 100 horsepower at 10,500 rpm. About 80% of its maximum torque is available at just 4,000 rpm.
The engine is mated to a 6-speed gearbox that offers crisp shifts and is equipped with a slipper clutch. The RS 660 is the only middleweight sportbike fitted with an up/down quick shifter that allows you to shift through the gears without using the clutch. 
Helping you tame the bike is 3-level traction and ABS control, wheelie control, and 3 throttle management maps.The chassis carries on with the Noale factory's racing DNA to deliver a sharp steering response and maintains balance even when leaning on knee-scraping bends.
The RS 660 makes cruising through traffic an effortless experience and is a gem when opening up the throttle on the highway.
Pros:
Handles and accelerates as a sportbike should

Loaded with the latest technology

Excellent fuel economy
Cons:
Not comfortable for long commutes

Generates a lot of heat
#4. Suzuki GSX-R600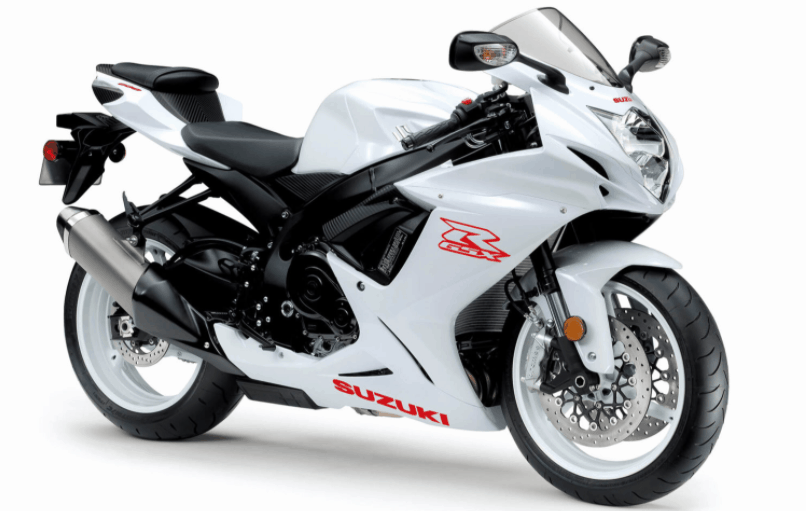 The GSX R-600 is a race-ready 600cc sportbike built from Suzuki's GSX-R series. It is styled with aerodynamic and lightweight bodywork that's perfect for track applications.
Key Specs
Engine:

599cc, 4-stroke, liquid-cooled, 4-cylinder, DOHC

Max Power:

125 hp

Max Torque:

67.7 nm

Top Speed:

253 km/h

Weight:

187 kg

Fuel Capacity:

17 liters
The Suzuki GSX-R heritage goes back to 1985 and since then it has established itself as a must-have for sportbike enthusiasts.
Suzuki has used their MotoGP track experience to build the 599cc engine. The engine runs a 67mm bore with a 42.5 mm stroke to squeeze out 100 horsepower and 67 nm of torque. All of these combine to deliver a rush of acceleration all the way to a claimed 253km/h top speed.
The advanced engine control module operates the Suzuki's Dual Throttle Valve (SDTV) fuel injection system to moderate fuel delivery.
The result is an excellent throttle response and linear power delivery through the rev band.  The wheelbase is shorter to better balance the combined mass of the rider and the bike, improving cornering ability.
Whether you intend to dominate the track or go on spinning canyon runs, this bike is sure to live up to its reputation. A capable all-round performer and one of the best performers in the 600cc class. 
Pros:
Fully adjustable suspension

Twin Brembo monobloc brakes deliver a strong stopping ability

Engine's power delivery can be adjusted to suit riding conditions

Larger fuel tank than most 600cc sportbikes
Cons:
It can be uncomfortable on long rides
#3. Honda CBR600RR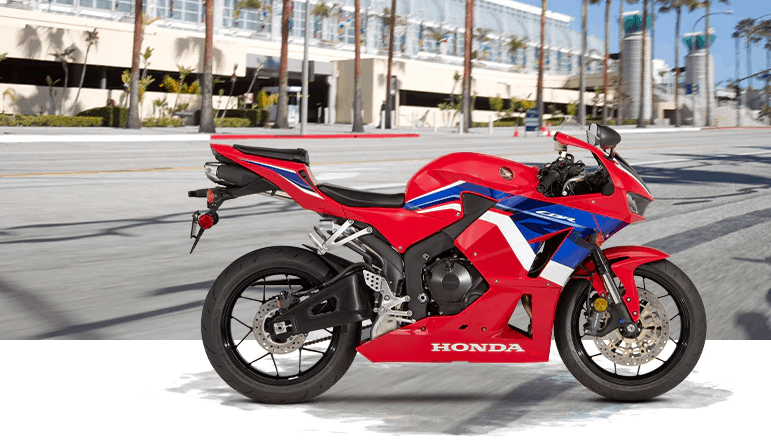 Introduced in 2003 to complement Honda's CBR series. It's the manufacturer's first inline four-cylinder engine to utilize Throttle by Wire control. In 2003, it was voted by Motorcyclist magazine as the world's best superbike.
Key Specs
Engine:

599cc liquid-cooled inline four-cylinder

Max Power:

113 hp

Max Torque:

66 nm

Top Speed:

254 km/h

Weight:

186 kg

Fuel Capacity:

18.2 liters
Not much has been changed from the engine that has been with the CBR600RR since 2003. In essence, it's still the same 599cc four-cylinder engine and last underwent changes in 2007 to coincide with the launch of that year's model.
Using knowledge gained from Honda's envious MotoGP record, the engine features a 67mm bore with 42.5 mm stroke to produce plenty of horsepower and torque.
Acceleration is brisk ganks to two sets of injectors per cylinder that assures both low and high RPM performance. To reign in all those horses are a pair of radial-mount, four-pot, monoblock calipers that bring the bike to a halt with commanding authority. 
The chassis enhances the CBR600RR canyon-carving reputation thanks to Honda's in-house Electronic Steering Damper.
The suspension is a gem due to an adjustable spring reload to ensure total control of the ride quality.  If the value for money and a solid ride is your main concern, you cannot go wrong with this Honda.
Pros:
Great dealer support and parts can easily be located

One of the most reliable 600cc sportbikes

Comfort is considered best in class

Built-in steering damper

The exhaust is located under the tail, reducing the bike's width
Cons:
Not as powerful as some of its competitors

The windshield offers little wind protection
#2. Yamaha YZF-R6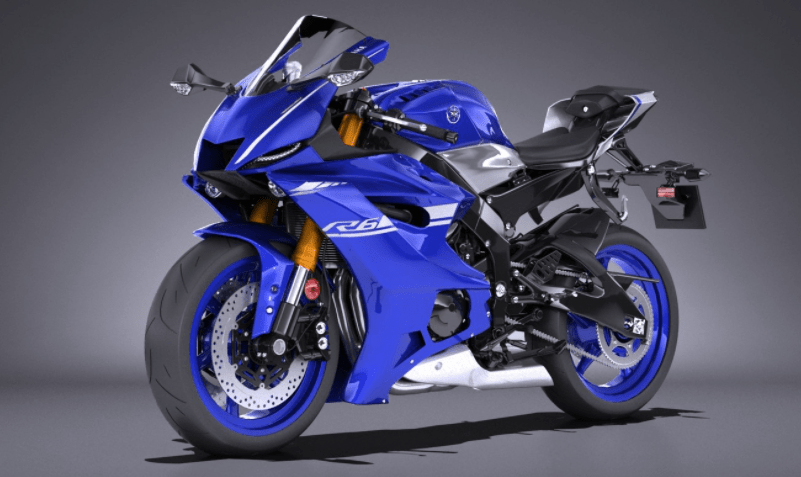 The YZF-R6 was first launched in 1999 as the supersport version of the YZF-R1 superbike. The R6 is Yamaha's answer to counter competition from Suzuki, Kawasaki, and Honda.
Key Specs
Engine:

599cc liquid-cooled DOHC inline 4-cylinder; 16 titanium valves

Max Power:

118 hp

Max Torque:

59 nm

Top Speed:

262 km/h

Weight:

190 kg

Fuel Capacity:

17.4 liters
The Yamaha R6 has firmly cemented its position as one of the most popular middleweights on the market. It is powered by a powerful 599cc inline 4-cylinder engine with a 67mm x 42.5 bore and stroke.
While Yamaha has no official figures for the power and torque, independent dyno runs show about 118 horsepower with 59-newton meters of torque to boot.
The forks are high-spec KYB lifted from the R1 and revised to fit the R6. More stylistic options are borrowed from the R1, such as the analog tachometer that indicates a 16,500rpm redline.
The digital speedometer is easy to read and along with it is a multi-function display that shows important settings like the TCS, ABS, and D Mode.
There are 6 levels for the Traction Control System, with 1 being the least intrusive and 6 reserved for the worst conditions.
You can switch off the traction aids should you want to ride the bike without their assistance. You just can't beat this sportbike for performance and that's why it's popular for track days. 
Pros:
One of the most technologically advanced sportbikes on the market

Smooth gear changes

Available with different color options

Effective stopping power

Sharp styling that appeals to most
Cons:
The seat is hard and takes a little getting used to

Novice riders might find it difficult to control the bike
#1. Kawasaki Ninja ZX-6R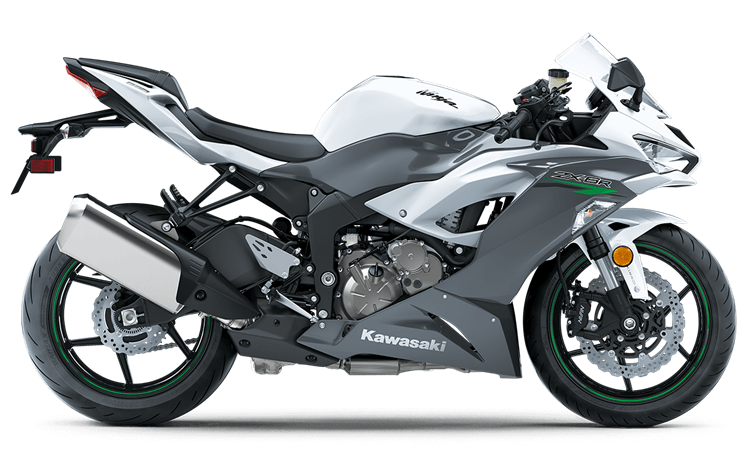 It was introduced in 1995 and over the years has undergone constant updates to respond to competition in the 600cc class. The ZX series is what is known as the Ninja class of Kawasaki motorcycles.
Key Specs
Engine:

636cc liquid-cooled, inline four-cylinder, DOHC, 16-valves

Max Power:

128 hp

Max Torque:

70.8 nm

Top Speed:

281 km/h

Weight:

196 kg

Fuel Capacity:

17 liters
The Kawasaki ZX-6R is one of the highly sought after 600cc sportbikes. The engine is one of the most powerful in the segment.
The power plant is a 636cc inline 4-cylinder that has always been a ripper of an engine since its introduction. From the moment you twist the throttle, the ZX-6R pulls away with almost reckless abandon. Power delivery is smooth and will keep pushing the bike well into the upper echelons of the rev band.
You don't need to be fearful should you make a mistake as the traction control is standard on the ZX-6R. It can be adjusted to 3 levels to suit most riding conditions you may encounter.
Fully adjustable suspension helps to get the right setting for soaking up rough roads to provide better balance when cornering hard.
Sportbikes like this Kawasaki need to be able to stop quickly when you need to. On the front are dual 310mmrotors with four-pot radially mounted calipers.
In the rear, a single 210mm helps to tame the bike's speed. The Kawasaki Ninja ZX-6R is capable enough to excite an experienced rider and is forgiving enough to keep an intermediate rider entertained.
Pros:
Selectable power modes combined with Kawasaki Traction Control

Multi-function LCD screen

Exclusive Kawasaki Racing Team colors and vinyl

Lightweight and versatile
Cons:
Aggressive riding position

The suspension is on the stiffer side
FAQs
Question: How fast can a 600cc sportbike go?
Answer: While they're not as powerful as the liter-class superbikes, 600cc sportbikes still pack a mighty punch. Most will easily clock 200 km/h while some like the Kawasaki Ninja ZX-6R will reach as high as 260 km/h.
Question: Is a 600cc sportbike appropriate for beginners?
Answer: A 600cc engine size is a recommended starting point for beginner riders. A new rider should take a motorcycle safety course to help them gain the knowledge of how to protect themselves at all times. If they're patient enough to learn how to ride properly, handling a 600cc sportbike shouldn't present a lot of problems.
Question: Should you be buying a used or new sportbike?
Answer: New bikes have the added security of the dealers or manufacturers warranty. Furthermore, they have flexible payment options usually spread out over several months.

Used bikes may have defects not addressed by the previous owner. However, if budget is an issue you can consider getting a used one in good condition. Just remember to have a competent mechanic look over it before committing to purchase.
Verdict
Few 600cc sportbikes can punch above their weight as the Kawasaki Ninja ZX-6R can. The engine is one of the most powerful in the 600cc division and is equipped with plenty of fancy techs to maintain performance and reliability.
It's docile enough for daily commutes, but when the need for speed is a necessity, it can be a screamer on the straightaways. It's plenty of bike for just under the $10k base price.