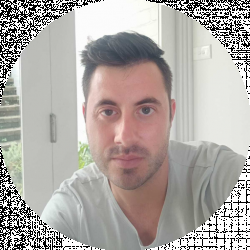 Latest posts by David Borgogni
(see all)
Taking a break every time you need to hydrate during a city ride or a long ride on the open road will prolong your trip unnecessarily. Opting to add a motorcycle cup holder to your vehicle will make staying hydrated much easier, as you'll always have a soda can or a water bottle within reach.
In this article, we're going to walk you through some of the best motorcycle cup holders and suggest several models that might be a good fit for your motorbike.
Go through our guide to finding the best sportbike tires if you want to learn more about different types of motorcycle tires.
At a Glance – The 5 Best Motorcycle Cup Holders
Selection criteria
Not all motorcycle cup holders are universal, and some models are only compatible with motorcycles produced by certain brands. The durability and stability of these accessories depend on the mounting method and the materials they're made of.
Choosing the best motorcycle cup holders isn't easy, as there are so many models that deserve to at least be mentioned in this article. Hence, we had to use strict selection criteria to come up with a handful of models that can meet the needs of a wide range of bikers.
Let's take a look at some of the most important parameters that helped us pick the cup holders featured in this article.
Cup holder's size – The model you choose must be compact so that it doesn't jeopardize your safety and spacious enough that it can accommodate standard-size water bottles, cups, or coffee mugs. All cup holders you'll find in this article are large enough to hold a bottle or cup, and they fit on a wide range of handlebars.
Materials – Cup holders for motorcycles are usually made of plastic or metal. Our selection includes models that are made of either of these materials.
Aesthetics – In addition to their functionality, cup holders can also serve as a decorative element. That's why aesthetics played a large role in our motorcycle cup holder selection process.
Check out our guide to the best sportbikes for tall riders if you're struggling to find a bike that matches your height.
Reasons to use motorcycle cup holders
Dehydration is a significant concern during long rides on hot days, so having access to water at times is paramount for your safety.
A cup holder enables you to stay hydrated without having to stop every time you want to take a sip of water. Even though a saddlebag provides riders with a space where they can store their water supply, it doesn't offer a way to carry a coffee mug or a soda can.
In addition, many cup holders are compatible with other add-on gadgets like phone mounts, and they can make it easier to navigate through an area you're not familiar with.
Go through our guide to the best 1000cc sportbikes to find a model you can use to compete in races.
Motorcycle cup holder materials
The visual appearance and durability of motorcycle cup holders depend on the materials they're made of. These accessories can be made of a combination of different materials, so you'll have plenty of options at your disposal.
You should also consider the material's insulation properties while choosing a motorcycle cup if you want to keep your drink cool or warm for long stretches of time. Let's take a closer look at some of the most common motorcycle cup holder materials.
Stainless steel – Models made of stainless steel are sturdy and corrosion-resistant. They don't deteriorate quickly, and they match visually with a wide range of motorcycles. However, their weight and size are their biggest downside, as you can't fit them on all handlebars.
Chrome – Like stainless steel, chrome is corrosion-resistant, so you won't have to worry about exposing your cup holder to the elements if you opt for a model made of this material.
Plastic – ABS or polycarbonate are some of the plastic types used to manufacture motorcycle cup holders. These materials aren't as elegant as those made of metal, but they're lightweight, functional, and affordable.
Fabric – Mesh or leather are often combined with other materials to create a cup holder to accommodate differently sized cups and bottles.
Check out our Ducati SuperSport review to learn more about this racing bike.
Mounting options
Almost all motorcycle cup holders can be mounted onto a handlebar, either temporarily or permanently. However, some bikes have a limited amount of handlebar space, and installing a cup holder might limit your ability to control your bike.
Also, the purpose of using your motorcycle or the climate in the region where you live can affect your decision to opt for a permanent fix or detachable cup holder.
Permanent fix – The installation of these cup holders usually involves using tools such as hex wrenches that enable you to fasten the cup holder to a handlebar, so taking these models off requires time and effort.
Detachable – Designed for bikers who don't need quick access to water often, detachable cup holders usually feature a built-in installation mechanism. Hence, you don't have to use tools to mount them or take them off your bike.
Read our guide to the best 600cc sportbike options if you're searching for a new bike.
Motorcycle cup holder stability
You should only use these accessories if you're riding on smooth roads since hitting a pothole or entering a sharp road curve too fast can send your drink flying over your bike's control panels.
Manufacturers of motorcycle cup holders often include 'fingers' that prevent a cup or a bottle from moving, but this feature doesn't always guarantee that your drink is safe. That's why you should search for a model that has a strong mount arm that keeps the cup holder section firmly in place.
Browse through our guide to the best sports bikes for more information about the industry-leading brands and the models they offer.
The most important factors to consider while choosing a motorcycle cup holder
Safety should always be your primary concern since doing anything that might distract you from the road can put you in danger.
Besides, drinking water while you're on a motorcycle is complicated and unsafe, so you must get a water bottle with a tube if you want to keep hydrated while riding. Hence, motorcycle cup holders are only helpful if used correctly.
Aside from safety, there are several other aspects you need to consider while searching for a motorcycle cup holder. Here are some of the most important ones.
Size and adjustability
Checking the dimensions of the unit you want to get will help you determine how much space it will occupy. The last thing you want is to get a cup holder that blocks your view of the vehicle's control panel and prevents you from having a clear overview of the speedometer.
Getting an adjustable cup holder will enable you to change its position so that it doesn't affect your ability to control the motorbike. This can be particularly important if your motorcycle has a relatively short handlebar.
Model's functionality
Even though their primary purpose is to keep cups, mugs, or bottles stable while you ride a motorcycle, cup holders can also provide a space where you can keep food or snacks. Moreover, these accessories can serve as tissue holders or garbage disposal bins.
The model you choose should be multi-functional so that you can have quick access to the items you don't currently need. That's why you need to pay attention to the cup holder's design and estimate if you can use it for different purposes.
Compatibility
The easiest way to avoid compatibility issues is to get a universal cup holder that fits all motorbike handlebars. Alternatively, you can check with a retailer if the model you want to get is compatible with your motorcycle.
Most manufacturers provide a complete list of compatible bikes, so checking if you can use a particular cup holder shouldn't be too difficult.
Visual appearance
Like all accessories, cup holders you mount on your motorcycle should look good. That's why you should search for a model that matches your bike's aesthetic perfectly.
Cup holders made of stainless steel or chrome are more stylish than plastic ones, but they are also heavier and more expensive. Mesh or leather models can also be elegant, although frequent exposure to rain or sun might damage them quickly.
Price and durability
These accessories aren't expensive since most expensive models cost less than $100. In most cases, you won't have to spend more than $50 to get a stylish and durable cup holder that complements your motorcycle's visual appearance.
Brands don't always offer warranties for cup holders, but companies like Barefoot Willies or Kruzer Kaddy offer lifetime warranties and free replacement of defective parts. The lifespan of motorcycle holders depends on several factors, but most units can last for at least a few years.
The advantages of motorcycle cup holders
Easy way to transport beverages
Cup holders enable you to pick up a coffee from Starbucks' drive-thru on your way to work or have easy access to water during long rides. Most models are designed to prevent a bottle or a cup from moving, but despite this spilling, your drink is relatively easy.
Additional storage space
Besides beverages, you can use cup holders to carry different types of snacks. These accessories can also provide you with space where you can store your garbage while you're on the road so that you don't have to drive around looking for a trash bin.
Stylish designs
Motorcycle cup holders come in a variety of shapes that can help you make a strong visual statement. Even simple and minimalistic models can make your motorcycle look more stylish.
The disadvantages of motorcycle cup holders
Potential safety hazard
Spilling a drink while you're riding a bike can distract you or even cause you to lose control of the vehicle. That's why you must always make sure that the beverage you're carrying with you is properly secured before starting the motorcycle's engine.
Limited compatibility
Some cup holders are designed for specific motorcycle models, and you cannot use them with motorcycles produced by different companies. Hence, you need to check if a cup holder you want to get is compatible with your motorcycle.
Top 5 motorcycle cup holders
Kuryakyn 1462 – The most versatile motorcycle cup holder
The combination of chrome construction and mesh fabric basket gives the Kuryakyn 1462 a stylish look. This cup holder features fingers that prevent bottles or cups from moving while the vehicle is in motion, and the perch arm mount provides enough stability to keep chances of spillage at a minimum.
You can install the Kuryakyn 1462 on motorcycles produced by BMW, Honda, Kawasaki, Suzuki, or Yamaha, but you must check if it is compatible with the model you have. The cup holder doesn't have any weather protection, and it might not be able to withstand prolonged exposure to the elements.
Pros
Compatible with a wide range of motorcycles
Excellent stability
Accommodates differently sized bottles and cups
Ships with an installation kit
Cons
Difficult installation process
More expensive than its competitors
XMT-Moto – The best cup holder for Harley Davidson motorcycles
In case you're searching for a way to carry 20oz and 24oz cups or water bottle on your Harley Davidson motorcycle, you should consider getting the XMT-Moto cup holder. Besides Harley Davison, you can use this cup holder on Kawasaki motorcycles.
The model features fingers that prevent a can or a cup from bouncing during a ride. However, the cup holder doesn't have vibration dampening properties, and it might get loose after a while.
The installation process can be complicated, especially if the provided screws are too short for the handlebar on your bike.
Pros
Study mesh basket
Suitable for 7/8-inch and 1-inch handlebars
Holds most standard cups, cans, and bottles
Affordable price
Cons
Wind can affect the cup holder's stability
Users might face compatibility issues
The lifetime warranty offered by the manufacturer is proof of the Barefoot Willies Cool Rider's durability. The cup holder is made of polycarbonate that isn't affected by rain or strong wind, although constant sun exposure may damage it over time.
The installation process is simple, as you just have to mount the cup holder onto a handlebar and fasten it in the desired position. Keep in mind that you can only use the Cool Rider with handlebars that are 7/8-inch, 1-inch, or 1-1/4-inch wide.
The cup holder is spacious enough to accommodate most standard-sized cups, mugs, and water bottles.
Pros
Easily detachable
Made of durable material
Not affected by wind or rain
Lifetime warranty
Cons
It doesn't have holding fingers
It doesn't handle vibration well
Kruzer Kaddy 200 – The most stylish motorcycle cup holder
The Kruzer Kaddy 200 offers a perfect balance between style and functionality. Besides motorcycles, you can mount this cup holder on bicycles or indoor bikes to ensure you have easy access to water while exercising.
The model 200 is compatible with 7/8-inch, 1-inch, or 1-1/4-inch handlebars, and its mounting bracket can swivel for 360-degrees to allow you to find the perfect position for the cup holder. In addition, two insulated liners enable you to carry containers of different sizes in the Kruzer Kaddy 200.
Pros
Simple and stylish design
Corrosion-resistant
Adjusting the cup holder's position is easy
Suitable for a wide range of motorcycle models
Cons
Only one color option is available
Stability could be better
Accmor Universal – The most affordable motorcycle cup holder
You can choose between grey and black versions of the Accmor Universal cup holder that are made of ABS plastic. This universal cup holder doesn't necessarily have to be used on a motorbike, as you can easily mount it on a stroller, bike, wheelchair, or even a chair's armrest.
You can adjust the cup holder's position by simply pushing it in the desired direction, while its rubber clip jaw makes it easy to detach it from the handlebar. In addition, the Accmor model is equipped with three automatic springs that keep cups and bottles in place.
Pros
Mounting and dismounting the cup holder is easy
Great for city rides
Highly adjustable
Versatile
Cons
It might not fit all motorcycles
Not durable
Frequently asked questions about motorcycle cup holders
Question: Do motorcycle cup holders dampen vibrations?
Answer: No, and your drink might spill if the cup holder is exposed to strong vibrations.
Question: Can motorcycle cup holders fall off?
Answer: Yes, even if it is installed properly, you must frequently check and tighten all the screws and bolts.
Question: Where can I install a motorcycle cup holder?
Answer: The most common place to install a cup holder is the motorcycle's handlebar, but you can also mount it on the clutch or brake perch and a passenger seat.
Question: Are motorcycle cup holders difficult to clean?
Answer: Cleaning a cup holder is easy since you just need a wet cloth to remove the accumulated dirt and dust.
Our verdict: How to choose the right cup holder for your motorcycle?
Finding the right model might turn out to be more difficult than it seems, as some cup holders might be too heavy for your motorcycle.
You also need to check if a specific model can fit on your bike's handlebar since some cup holders are only compatible with 7/8-inch or 1-inch handlebars. We recommend the Kuryakyn 1462 motorcycle cup holder because it is both stylish and durable.
A more affordable option like the Kruzer Kaddy 200 might be a good choice for you if you're searching for an adjustable cup holder that is compatible with a wide range of motorcycles.
Which motorcycle cup holder are you going to choose? Let us know in the comments, or continue reading our guide to the best sportbike grips if you want to learn more about different types of grips.