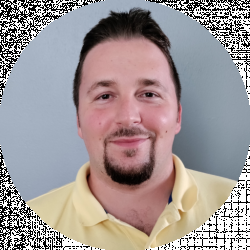 Latest posts by Coty Perry
(see all)
Finding a way to store your motorcycle short-term can be a difficult task, especially if you have a limited amount of space. You will need to find a place to store your bike that will protect it from harsh weather, anything that might scratch it, and even thieves.
There are so many creative motorcycle storage ideas that can work to help keep your motorcycle safe. Let's check out the many ways you can store your bike and figure out which one will work best for you.
20 Great  
Since getting your motorcycle out of the garage can be a difficult task, especially with limited space, it is important to have a secure place to store your bike. You will need a place that is safe from both harsh weather and those who may want to steal your bike.
Abba Patio Shelter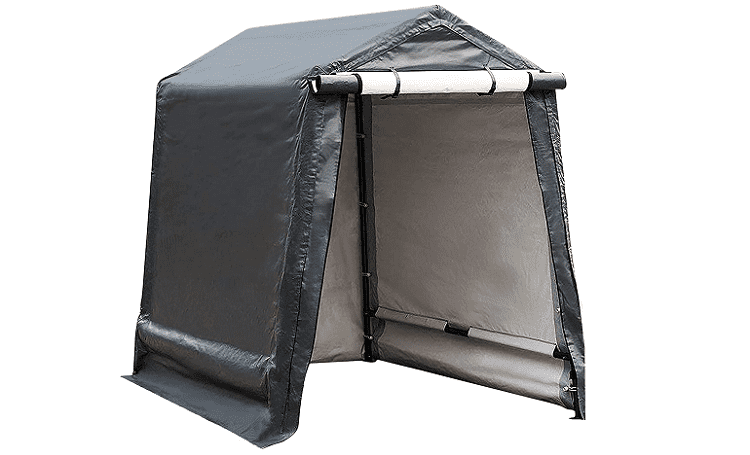 The Abba patio outdoor storage shed has a heavyweight frame that is designed with 1.5-inch heavy gauge steel to provide a stable shelter for your bike.
The patio storage shed is weather resistant and does not shake in heavy winds. The canopy fabric is durable, triple-layered, and has UV protection to ensure your paint stays intact and prevents any dust from settling on your bike. 
The roll-up door on the shed allows you to access your bike at any time, and there is also a zippered door to help better protect against any rain or snow. Between the sidewall and one-piece cover for the top of the shed, this bike storage shed is super sturdy and has a strong frame. 
Purchase a Unit
Purchasing a storage unit will allow you to store your motorcycle in a safe place during the cold winter months. To start, you will need to look into your local storage units to find the right one for you. When you find the right storage unit, be sure to bring your bike registration and proof of ownership with you to prove it is your bike. 
If your motorcycle needs any maintenance, be sure to get that done before you store it in a unit since storage units do not allow you to work on your motorcycle while in the unit. Storage units are fully sealed, which will protect your bike from all weather conditions and avoid the risk of being scratched or bumped.
Before you put your motorcycle in storage, it is a good idea to fill up your gas tank, change your oil and fluids, take your battery out, and clean your motorcycle. This will ensure that your bike is ready to go when you take it out of storage and are ready to put it to good use again.
Quictent Heavy Duty Shelter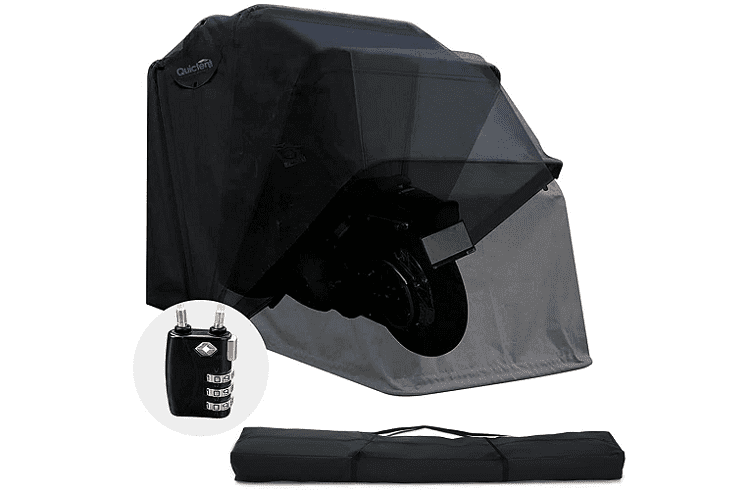 This polyurethane motorcycle storage product for your garage is perfect for storing your bike at all times. There is a heavy-duty 600D oxford fabric cover that will protect your bike from any harsh weather conditions. There are also mesh windows and roll-up flaps that provide great ventilation to air your bike out.
Our favorite feature about this motorcycle storage shed is that it is equipped with a TSA security code lock for your bike's safety. It comes with four bolts that need to be secured to the ground, and a cover can be added easily. This product has a one-year warranty in case you aren't happy with the product, which is unlikely. 
for
If you want to build a permanent solution to protect your motorcycles from damage, building a shed yourself might be one of the best motorcycle storage ideas. An eight by ten-foot shed will do the trick to protect up to two bikes from harsh weather and everyday life.
You will need basic tools to build a foundation floor, walls, and a ceiling which should last for the whole life of the shed. 
Since it is your shed, decorate it if you want or just keep it plain – whatever makes you happy. There is enough space to fit two motorcycles inside of the shed when finished, and it will protect them from all weather conditions.
This is perfect as it is a permanent solution to protecting your bikes. Check out this video to learn step by step how to create a shed for your bikes.  
Favoto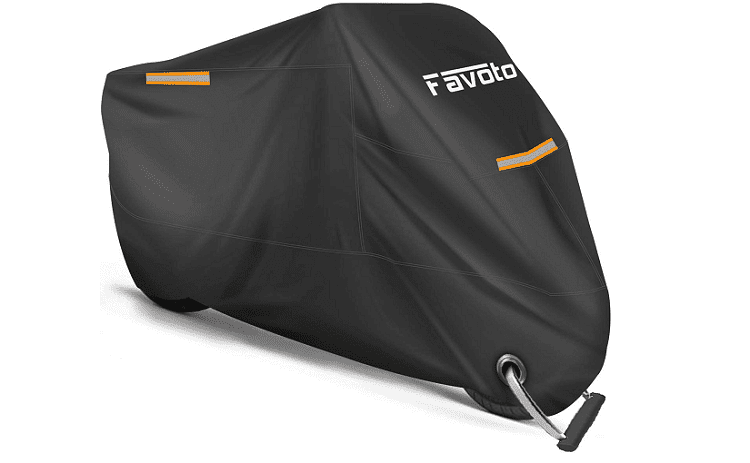 This storage cover for your motorcycle is great to protect it from the weather. With its fabric being resistant to ripping, it will last for a long time.
In addition, the material of the fabric is so sturdy that your bike won't get scratched. The Favoto motorcycle cover has two lock holes as well, so you can lock up your motorcycle to prevent theft. 
Equipped with three stripes for reflection, you will easily be able to locate your motorcycle when it is dark. A storage bag is included so you can organize the cover with the bag, keeping it neatly together to not use up any extra space.
Store Your in a
If you have enough garage space to fit your motorcycle or sportbike inside for the winter, this is probably your best option. It is easy and convenient for you to keep your bike protected from harsh winter conditions. You should still try to keep it covered, though, to prevent your bike from getting dusty or damaged in any way.
Gutupet All Season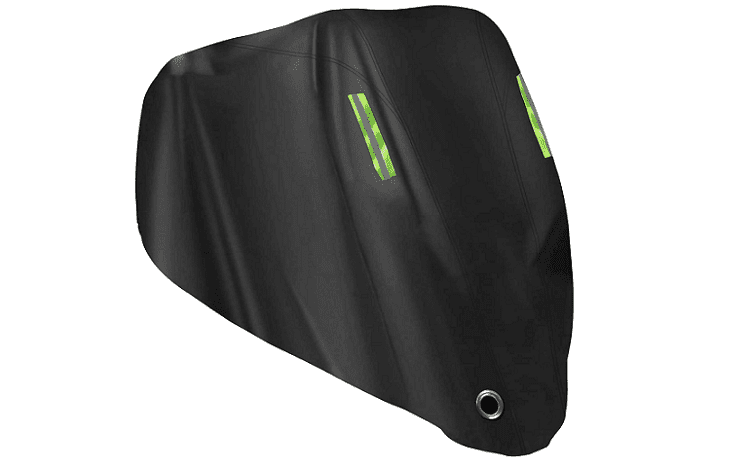 This universal fitting seasonal cover is perfect for various models of motorcycles, such as Yamaha, Harley Davidson, Honda, Suzuki, Ducati Supersport, and more. This cover is made from the best tear and wear-resistant material and has a silver coating on the inside with double stitching. Inclement weather can not touch this all-season cover, as it offers protection against harsh weather conditions like heavy rain or snow. 
There are two lock holes to be able to place a lock-in if you deem necessary, and there are reflective strips on both sides of the cover so it can be seen at night. This cover comes with a bag for storage and is simple to transport.
Borrow from Family or Friends
If you don't have a motorcycle garage or bike shed space to store your bike for the winter, consider asking a family member or a friend if you can borrow some of their extra space to store your bike.
Maybe they have some extra garage space you can borrow or some space in their shed. Maybe they even have extra room under their carport. 
No matter what extra space they might have, any of these options will help you keep your bike safe for short-term storage. This is a convenient and simple way to store your bike, especially if you are trying to save money and not rent a storage unit or build a bike shed.
Techtongda Heavy Duty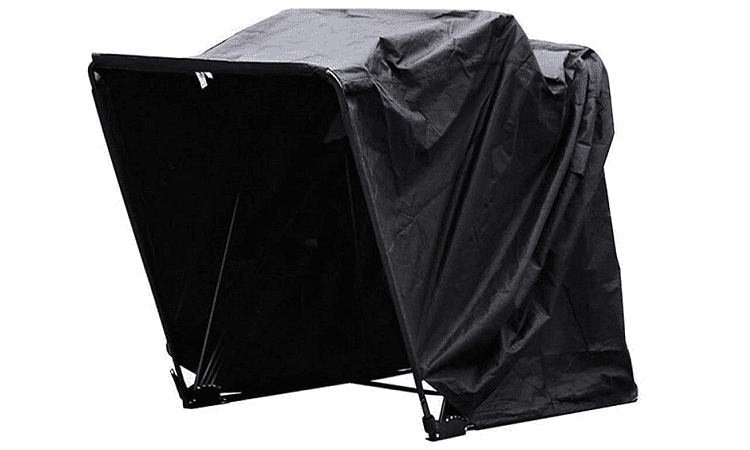 The Techtongda heavy-duty motorcycle storage cover is great for either a temporary or permanent solution to keep your bike covered and will keep your bike clean and protected.
If you're looking for it to be a permanent way to keep your bike protected, you can easily assemble the tent to a concrete floor, and it will securely stay in place.
This bike cover has two padlock features to help keep your bike secure, but the locks are sold separately. This storage shed is easily accessible because of the option to fold it open whenever you need to use your bike.
Store Under a Carport
If you have a carport, you can certainly fit a motorcycle under it without taking up too much space. This will protect your bike from the elements of the winter season, but your bike should still be covered using one of our recommended covers.
You probably can even fit a couple of motorcycles under a carport comfortably if you and your family have more than one. 
In case you do not have a cover for your motorcycle, it will still be okay. Sun, rain, wind, and snow will not get to your bike unless the weather is really bad and it is coming into your carport sideways.
The Shield Standard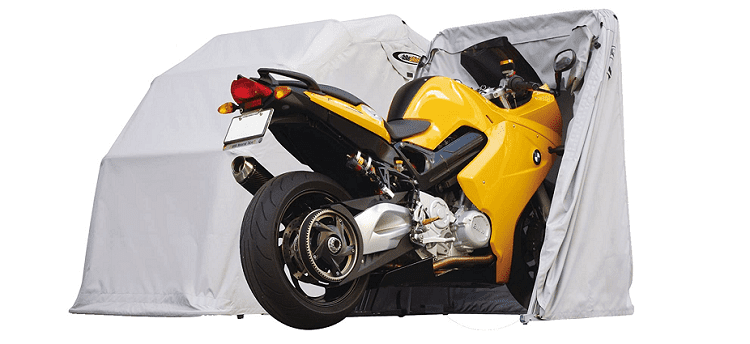 This easy to assemble bike shield motorcycle cover is top-notch for protecting your bike. Not only is it waterproof, but it has a heavy polyurethane coating to provide the best water-repelling results and protect from high UV rays.
There are ventilation windows on the sides of the cover to help prevent it from becoming too humid on the inside of the cover.
It comes with cross plates, a locking system, and sixteen square pipes to ensure that your vehicle is secure at all times. This bike shield can cover most bike models, such as BMW, Harley Davidson, Suzuki, Honda, and more. There is a one-year warranty against any defects from manufacturing and craftsmanship.
Rent from Your Neighbor
This option is somewhat similar to Airbnb. Your neighbor might have plenty of extra land that they are not using. If that is the case, they might consider renting their available land to you.
Renting space from your neighbor has become a popular way to store your motorcycle at an affordable price. Reach out to your neighbor to see if they would consider helping you find a way to store your bike.
Outsunny 8×6 Shelter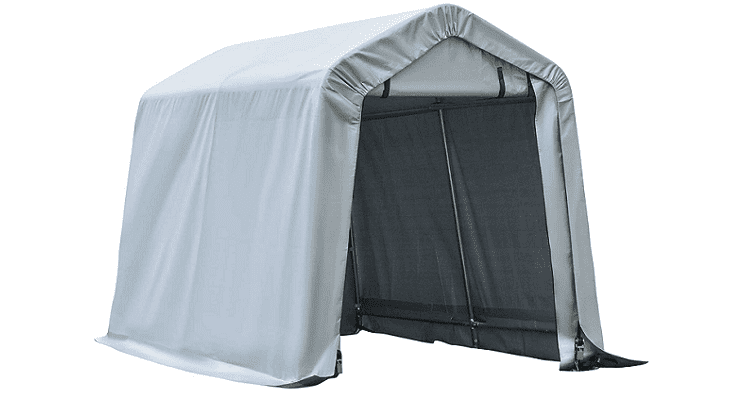 This durable gray storage shelter is perfect for protecting your motorcycle from excess sun, wind, rain, or dirt. Having a roll-up door, you can easily access your bike at any time. This storage shelter is well built, as the four corners go inside of the ground. 
The steel frame on this shelter will ensure that your motorcycle does not get shaken around on a windy day, and the ground stakes and screws will add extra stability to the tent. This shelter is also UV resistant, which makes it even better knowing your bike will not receive any damage from the sun. 
Get a Lift
Since many of us do not have enough floor space in our garage or shed to store our motorcycles, a motorcycle lift is a creative way to store your bike safely. If you have some extra money you are willing to spend on your bike, you should look into purchasing a motorcycle lift.
Some companies offer an electronic platform that can be used to be raised up, like this one from Garage Evolution. It is a great way to keep your motorcycle safe and out of your way
XYZCTEM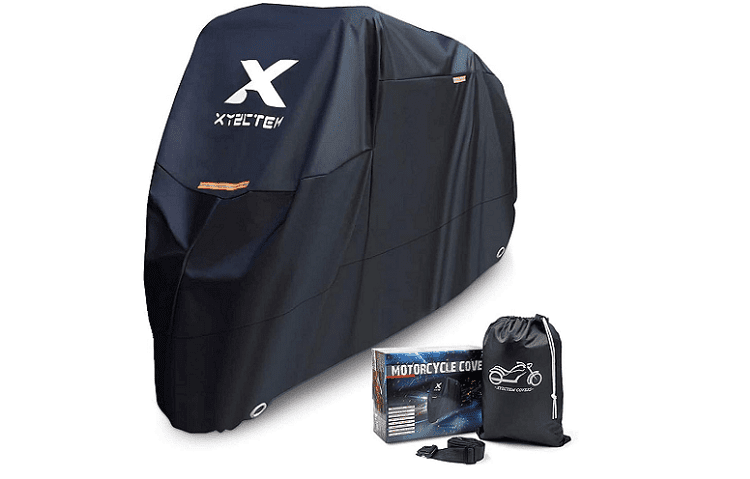 This universal motorcycle cover can cover up to 116-inch bike models and fits 99 percent of on-road and off-road standard-sized bikes. It is made of quality materials, like Oxford, making it repellent to water.
The XYZCTEM cover will protect your motorcycle against harsh weather conditions like heavy rain, snow, UV rays, and even tree sap. 
There are two lock holes for your security and two buckles that are windproof. It comes with a storage bag and 24-hour service in case something does not work properly. 
Bring It Inside
Many of those who have smaller bikes are able to store their bikes inside for the winter. If you have the ability to do so, roll your bike inside.
Keeping your motorcycle inside will certainly keep your bike safe from outdoor conditions, like bad weather. This is not the best long-term solution, but you can definitely get away with keeping it inside for a few months.
WDLHQC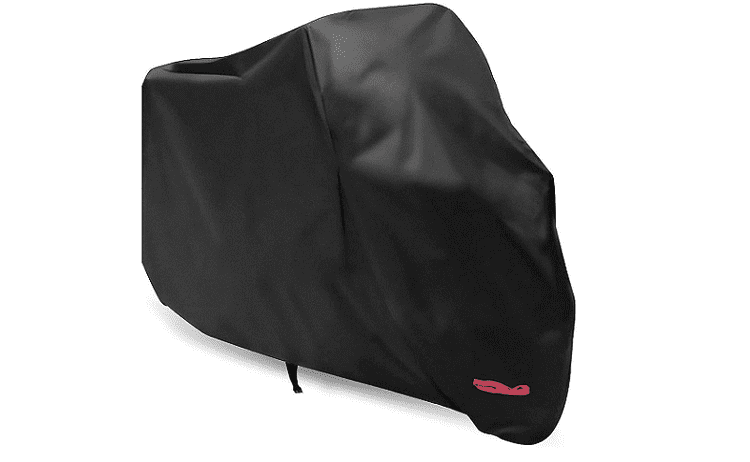 The WDLHQC motorcycle cover is made out of high-quality nylon oxford material, protecting your bike from any bumps or scratches. The inside of the cover has a waterproof coating to ensure your bike does not get water damaged.
The heavy-duty buckles on the bottom of the cover prevent the cover from blowing away during bad weather, like snowstorms, rainstorms, or heavy winds.
This motorcycle cover has a universal fit, allowing it to fit multiple bike models up to 105 inches in length. There is a lock hole in the front for your security and adjustable straps on the bottom to secure the cover in place. 
Ask Your

Dealership
Some motorcycle dealerships offer a program that will allow you to store your bike at the dealer for the winter. Depending on the brand of your bike, winter storage or long-term storage may be the best option.
Call your dealership and ask them about what options they have for motorcycle storage so you can prepare where to keep your bike for the winter months.
Impact Canopy 70018150 Portable

6×8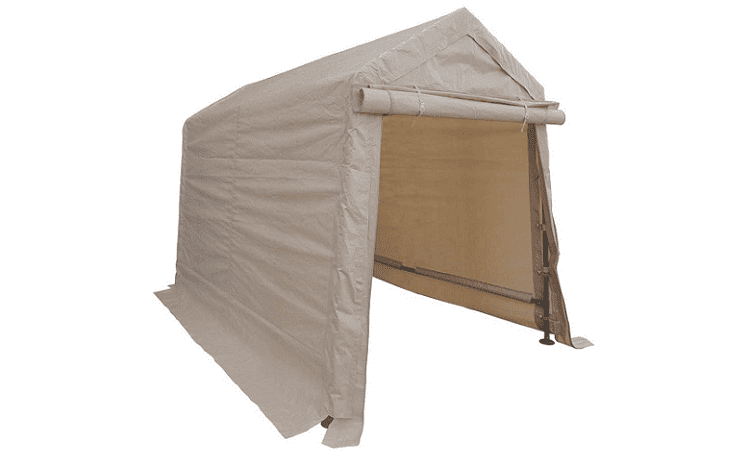 This tan-colored canopy offers maximum protection against harsh weather, the sun and is resistant to water. This is a completely enclosed canopy with one piece for the top, all sides, and an end wall.
It has a durable steel frame and footpad and is made using 180 grams of polyethylene. The Impact Canopy includes a frame, cover, front wall and door, hardware, and footpads. 
Use a Tent
This might sound like a strange way to do things, but if you are on a budget and you need an emergency way to store your bike, this is it. This is not the best option for all of the winter months but will work for a couple of months until you find a better place to store your bike. 
You will need to set up your tent and make sure it is sturdy in the ground. You can then store your bike inside the tent and cover it just in case. Be sure to zip up your tent all the way when you are finished storing your bike to ensure that water does not find a way inside.
Also, check your tent for any holes. If there are holes in your tent, patch them up to prevent your bike from getting water damage or exposure to UV rays.
Indoor vs. : Pros and Cons of Each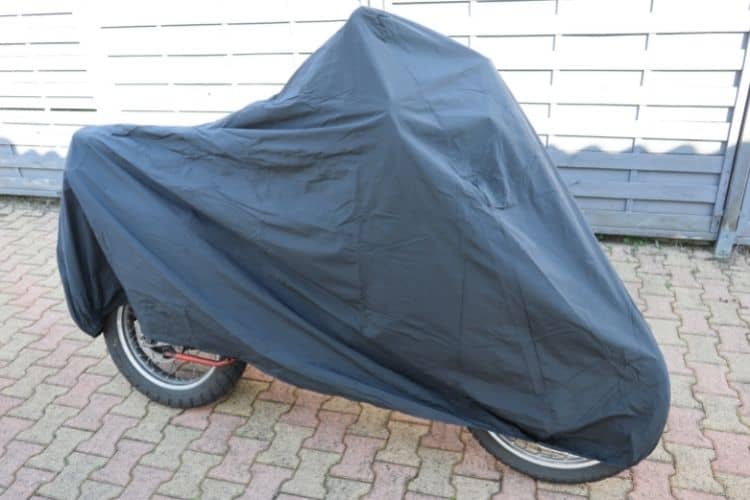 Both indoor and outdoor storage have their shares of pros and cons. Let's dive into more detail about the pros and cons of indoor vs. outdoor storage.
Pros of Indoor
Some pros of indoor storage include shelter from harsh weather conditions, no sun damage, no water damage, and your bike is less likely to get scratched or damaged in any way.
Cons of Indoor
Your motorcycle might take up too much storage space, and you will lose the opportunity to store more of your belongings in that space.
Pros of
Storing your motorcycle outside does not take up too much of your storage space, and you can save time by not having to make room for it inside.
Cons of
There will always be a slight chance that your bike can get damaged. It is unlikely it will if it is covered properly, but there will always be a possibility that I can get damaged from weather conditions.
FAQs 
Question: How Much Does it Cost to Purchase Storage for a Motorcycle?
Answer: Typically, it will cost you about $60 to $70 per month to keep your bike in storage. This price can vary depending on where you live.
Question: What is the Best Way to Store a Motorcycle?
Answer: Before storing your bike for the winter, give it a good cleaning, check the battery, prepare the fuel system, change the oil, check the tires, and either cover it up properly or store it in a shed or garage. All of these ways are acceptable for the winter storage of a motorcycle.
Question: How Long Can Gas Sit in a Motorcycle? 
Answer: Gas should not be used in your motorcycle if it has been sitting there longer than six months. When gas is not used for a long period of time, the chemistry of the gas changes and makes it deposit gum and varnish. 
Question: Can you store motorcycles in a storage unit? 
Answer: Yes, motorcycles can comfortably be stored in a 5×10 storage unit, leaving extra room for helmets and other equipment you may have.
Final Thoughts 
All of these options are great motorcycle storage ideas, but our top pick is storing your motorcycle in a garage. Storing your bike in a garage is convenient and will definitely protect your bike from any winter weather damage and keep it away from any branches that might scratch it.