Whether you own a Ducati, Honda, Suzuki, Aprilia, Yamaha, Kawasaki, or BMW, grips are important. They ensure a comfortable and safe riding experience when out and about with your sportbike.
Having a great set of handlebar grips can help with stability and positive control. All useful features when thrashing your sportbike on the track or rolling on that gentle weekend ride.
A new set of grips is not only about control when riding fast. It also improves the looks of your sportbike for that cool factor.
You will be spoilt for choice when you decide to equip your bike with a set of grips. From the basic to stellar top of the range grips, we have put together a few tips and suggestions. You will find these useful as you shop for new grips for your superbike.
Types of Grips
Not all sportbike grips are created equal. In the same breath, motorcycles come in a variety of types for different activities, grips are also available in different shapes and sizes. Sure, they all look very similar but there are tiny details that set them apart.
For example, you wouldn't use touring grips to chase lap times on the track, right? Well, you actually can but I guess you probably won't get the right satisfaction or feedback from the handlebars.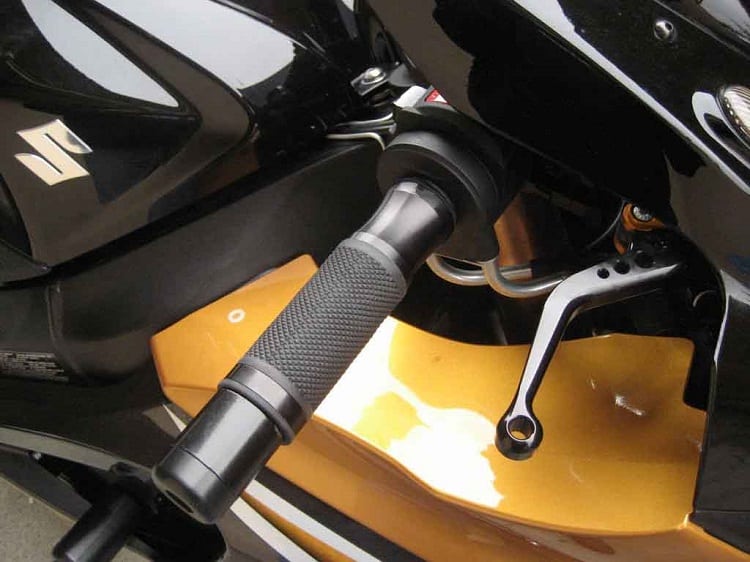 A dedicated long-haul rider will have difficulty spending hours on the bike with grips meant for canyon runs. The vice-versa is true as a canyon carver will probably not enjoy the lack of feel from grips designed for comfortable long-distance cruising.
Either way, your choice of sportbike grips should suit your riding style. It is worth noting that different types of grips are made from a different mix of compounds to suit their specific use. For this article, we are going to give you the different types of grips according to their specific use.
Throttle Control Grips
A clue about these grips can be found in the name. Throttle control grips allow the rider to rest their wrist by electronically regulating the throttle or by manually holding it in place through a clamp.
This allows the rider to set the cruise control which is especially useful for long-distance rides. It is a standard feature in some bikes while others are not available with this feature.
ISO-Grips
ISO grips are made to isolate the vibration that a rider will feel through the motorcycle handlebars. The design incorporates materials that will dampen vibration making them ideal for long-distance riding. Kuryakyn is one of the most renowned designers and manufacturers of quality ISO grips.
Grip Puppies 
These are covers that go over the standard rubber grips found on motorcycles. Made from soft and squeezable material such as foam, they are easy to squeeze into the existing grips.
On the road, they give that little extra comfort and reduce vibrations without the need to change the factory grips. An added benefit is they help in throttle control because it has a larger grip diameter. This is especially beneficial in bikes that are equipped with ride by wire throttles.
Billet Rubber Grips
Billet rubber grips are made from blends of rubber and metal to deliver durability and comfort. Different billet rubber grips are available with different formulations of rubber and metal. The metal is often anodized aluminum that is CNC machined and is styled in a wide variety of color schemes.
Heated Grips
If you enjoy riding at night or commute in an area where cold weather is common, then heated grips are most recommended for you.
They are designed to keep your hands warm. These grips have special wiring that is connected directly to the motorcycle battery. Most grips of this nature have handlebar-mounted controls through which the rider can adjust the temperature. The downside is they are quite pricey and are not easy to install.
Why You Need High-Quality Sportbike Grips
Choosing the right grips for your sportbike comes with its fair share of advantages and disadvantages. Usually, the gains will by far outweigh any potential losses you may face.
Changing the grips of your bike does not alter the original look of your bike as any changes are easily reversible. Just in case you want to put your bike on the market, it is easy to reinstall the original grips that came with the grips from the factory.
You will find that most aftermarket grips are more comfortable than OEM grips. This is because designers go to great lengths to improve any drawbacks that are associated with OEM grips. Some of these features include anti-vibration which reduces fatigue that may result in numbness in your wrist when you ride on harsh surfaces.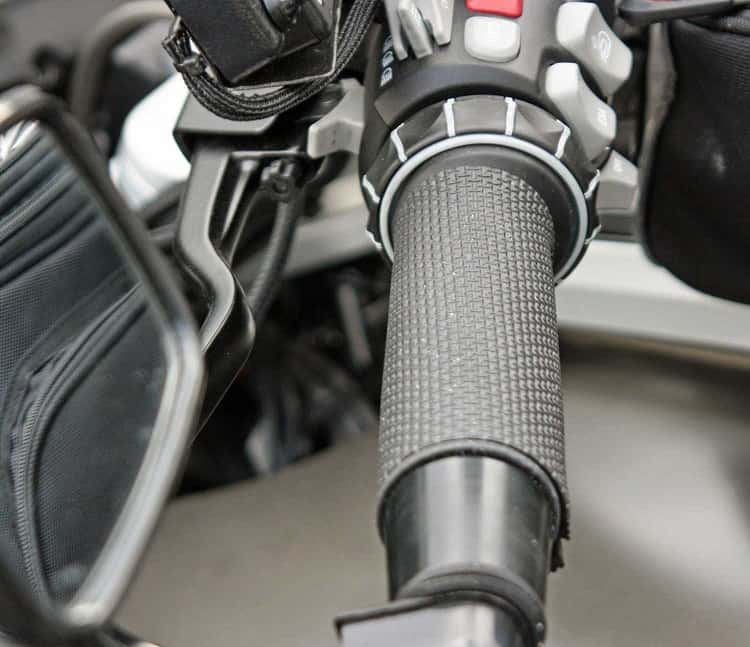 Another important feature is firm control. Depending on the material the grip is made of, It will help to prevent your hand from slipping.
Factors that may contribute to slipping include sweaty hands and friction. If you find your grip slipping, it is worth considering getting new grips.
Many riders prefer to give their sportbikes a customized look. One of the easiest modifications to make is by changing the grips. They are available with plenty of color schemes and combinations that will appeal to even the most discerning rider.
What Factors Should You Consider While Buying a Sportbike Grip?
Now that you are aware of the types of grips available, we will now look into the important factors to consider before splashing your cash on a new set of grips.
While grips may all look similar, they are not a universal fit for all types of motorcycles. The grips you choose can determine your riding experience.
We don't want fitting new grips to seem like an overwhelming responsibility. Using the criteria we have listed, you can judge which sportbike grips will be most suitable for you. This article will now look into the foundation of the most critical factors to consider when purchasing new grips.
Compatibility
You cannot overlook whether the grip is the right fit with your bike's handlebars. Grips that do not fit properly not only affect the riding experience but may also put the rider's safety in jeopardy.
The inner diameter and outer diameter are two of the most important measurements to consider. Inner diameters are mostly limited in range, from ⅞ of an inch to 1 inch. On the other hand, the outer diameter will vary when you compare different grips.
Materials
Pay attention to the materials used to manufacture the grip as they all vary when you look at the options available. One of the materials used to make grips is rubber.
However, there are also different types of rubber. The most common is the dual-compound rubber. It features a dense inner layer that wraps around the handlebars firmly and a softer outer layer that allows for good grip.
Purpose 
Different riders use their bikes for a variety of purposes. You have to identify with your style of riding before deciding to purchase new grips.
For the everyday sportbike rider, you may find having a selection of grips to choose from is handy for different riding scenarios. For example, if you enjoy heading to the tracks at any available opportunity, then your choice of grips will differ from the days you want to travel long distances in comfort.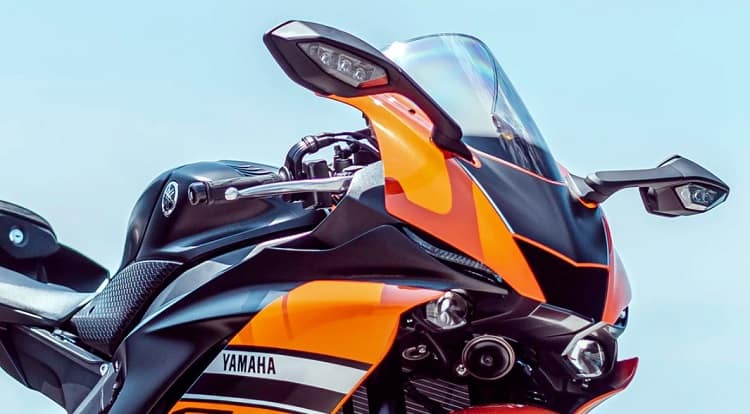 Price
One of the main factors in the decision-making process is cost. It is important to get your value for money when you decide to change your grips.
High-quality manufacturers are priced higher than mid-range or budget manufacturers. They earn this status by investing a lot of time and money in research to optimize a specific grip for the needs of a specific bike.
Grip Traction
You need grips that will fit firmly under your hands. Some grips have even thickness through the entire length while others have a bulge in the middle. These contours are important as they help you grip the handle as well as prevent moisture build-up under your hands.
 You may also be interested in grips that have grooves where your fingers can hold on to. There is a whole category of grips that are designed to provide the best possible fit for your hand.
Ease Of Installation
Some grips are easy to install while others may require a bit of fiddling and effort to fit them in. It's for this reason that you should consider ease of fitment. Rubber grips are easy to install in comparison to millet rubber grips since they are more flexible.
The easiest to install are grip puppies because of their soft and squeezable nature. The best thing about them is they go over the original grips while on the flipside they tend to age quickly.
Flanges
Flanges are the flared tips on the end of the bike's handlebars that prevent your hand from slipping off the grip. Most of them have screws that tighten and hold the flanges in place against the handlebar.
In normal riding situations, a rider may not have much use for flanges. However, it is particularly useful when cornering hard or when the grip is wet.
6 of the Best Sportbike Grips
Finding the best sportbike grips should be based on all those factors we have listed above. Surprisingly, many riders ignore the importance of these features and the role they play in providing better steering and control of the bike. Anything that can improve how you ride your bike should always be given the highest priority.
If you think it's time you replaced your sportbike grips, we will compare all of the best grips and review them individually to see how they rate against each other and what their main selling points are.
Let's jump into our recommendations for the best sportbike grips.
#6. Driven Racing D3 Grips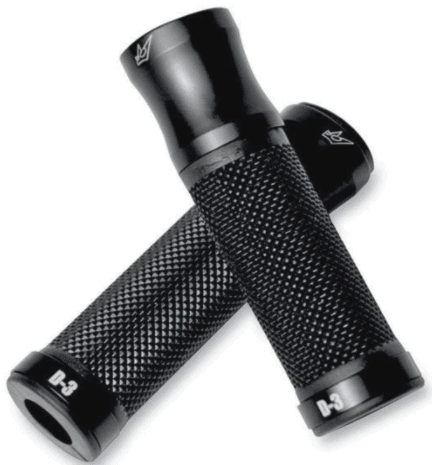 These grips are some of the most highly sought after in the market. Very popular with sportbike owners all world over.
It features a thick rubber compound that aids in the prevention of carpal tunnel syndrome which is the numbness and tingling you may feel on your hands after prolonged riding.
The Driven D3 grips are created using a specially formulated Kraton gel that is designed to reduce vibrations. This feature provides ultimate comfort when going fast on the track, enjoying that canyon slalom ride, or on your daily commute to work.
They are built with quality and won't cost you an arm and a leg. Although they aren't the most durable grips on the market, It represents a fairly good value for your money if you look past some of its faults.
Pros
Comfortable and attractive grips

Universal fit with 7/8 inch handlebars

Wide variety of color choices to suit the customized look of each rider

Features 2-ply design that reduces vibration and hand fatigue

Open-ended design allows you to keep the handlebar ends
Cons
You need to trim the extra throttle tube ring off to get a clean look

They wear off fairly quickly especially if you ride a lot
#5. Rizoma GR205b Sportline Aluminum Universal Grips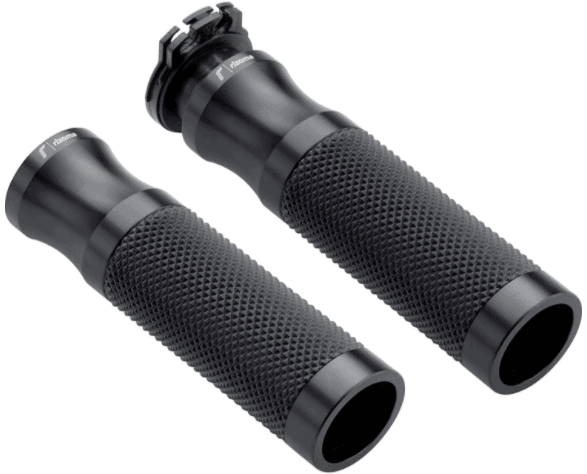 The Rizoma GR205b is one of the best designed and elegant grips you will find on the market. It is manufactured using unique CNC processes that result in a beautiful finish. Rizoma is an Italian company and their attention to detail and attractive designs is a reflection of their origin.
Equipping your sportbike with a set of Rizoma grips, you will benefit from the years of research and development. Most of which they gained from their involvement in superbike and MotoGP racing.
The CNC-machined billet aluminum grips have a great shape that will snugly fit your hands. Couple that with a near-universal ⅞-inch fit for most handlebars, and you are guaranteed to own one of the most versatile grips out there.
Rizoma grips can be adapted to a variety of riding styles. From those who like to scrape their knee on the track to those who enjoy a more relaxed ride. The grips are also available with a wide variety of color options.
Pros
Excellent build quality that is an upgrade of the original grips

Includes 3 throttle grip cams for a wide variety of applications

Easy to install on the bike

Significant reduction in vibration in comparison to most stock grips
Cons
Rizoma grips will not work with most Ride by Wire throttle systems

They are shorter than some stock handlebars therefore modifications may be necessary

It may lead to a sticky throttle if it doesn't fit correctly into the throttle housing
#4. Scott Sports Black Radial Full Waffle Grips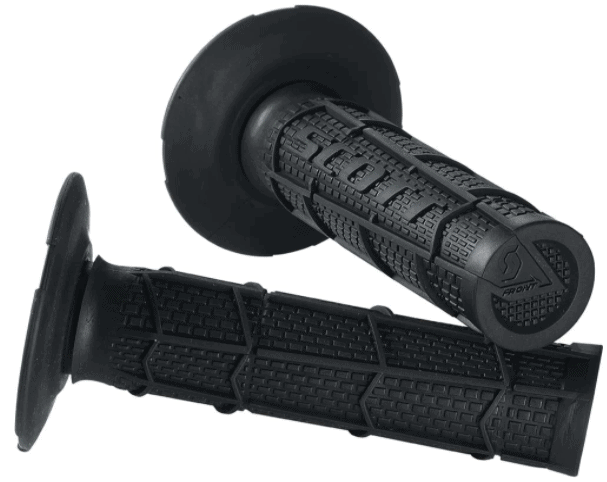 The Scott Sports grips are a fantastic choice for riders who are looking for comfort and good grip. When you are riding your bike, the thing that can unsettle you the most is when you start to lose a firm grip on the handlebars.
The Scott Sports scores highly on this front because of its waffle design. It makes the grips easier to hold on to even in rainy or humid conditions. Combine this design with an appropriate set of motorcycle gloves and you will rarely want for grip in most situations.
The rubber compound is designed to absorb vibrations which helps reduce fatigue and arm pump without compromising on grip.
Installation is easy and instructions are available to help make it a smooth process. The Scott Sports can be used for dual sports and are adaptable to most handlebars that are ⅞-inches in diameter.
Pros
The waffle design and radial grip offers a reliable feel

Soft and single-density rubber makes the bike comfortable to ride

The full waffle grip is a proven design that has stood the test of time

They are a direct fit for most sportbikes
Cons 
It is only available in one color
#3. ProGrip 717 Duo Compound Grips
ProGrip is the go-to manufacturer of racing grips and you can never go wrong with a pair. This is emphasized by the fact that many MotoGP riders have had them installed on their racing bikes.
They got to this level by being one of the earliest adopters of the duo compound handgrip. Duo compound is all about making use of rigid material on the inner part of the grip and soft materials on the outer layer.
The harder inner compound fixates itself firmly on the bar, avoiding any problems that may arise from slippage. The softer outer compound reduces vibration that is transmitted through the handlebars to provide continued comfort even in extreme riding conditions.
It is easy to control the throttle with the ProGrips therefore you can see why they are extremely popular with road racers. Not only are they suitable for racing but can also be applied to regular commutes where a good feel of the grips is highly desired.
Pros
Easy to install as they slip right on after removing the stock grips

It will fit every sportbike with a standard ⅞-inch handlebar

Firm on the inside and soft on the outside make it one of the most comfortable grips

Available in a wide variety of grip lengths and style 
Cons
They deteriorate reasonably quickly when the bike is used daily

The end of the grips are not open and may require trimming to mount the bar end
#2. Oury Black OSCROG10 Road/Street Grips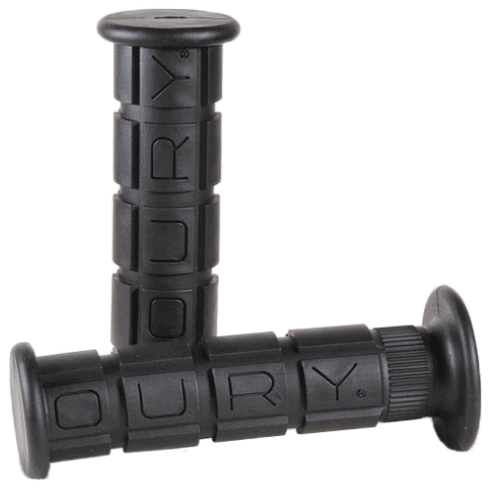 If you require new grips for your bike then Oury Black should be one of the first brands on your list. You won't find many options that rival the features the Oury's offer and at a very budget-friendly price. Also, many will be impressed by the looks of it.
The materials used to make these grips feature an anti-vibration design that does an excellent job at absorbing the shock.
The material also has partitioned pads that are excellent at channeling water away from the grip's surface. Having a large diameter for the grips is particularly advantageous for riders who have big hands as well as for ease of throttle control.
Pros
It combines lightweight and durability for maximum efficiency

Developed specifically to suit motorcycle applications

It has a small flange designed for most sportbikes

Manufactured from high-quality and durable materials to withstand tough abuse

Excellent for wet weather conditions

Right and left grips are easily identifiable when installing
Cons
It lacks cruise speed control assistance

Not the easiest grips to install

It is not open-ended therefore requiring a trim to mount the bar end
#1. Renthal G149 Black Full Diamond Firm Compound Sportbike Grip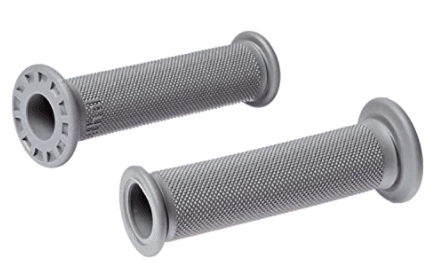 These Renthal grips feature some of the most advanced rubber compounds found on grips. It is made of Kevlar brand resin that resists wearing while retaining that firm feel that many riders desire. It is for these reasons that they are most preferred as a direct replacement for the stock sportbike grips.
The Renthal assures a great balance between bar feel and dampening. Another appealing feature of the grips is how the kevlar is very soft and kind on your hands.
You can also choose how much cushion you would want from the grips. The options include hard, medium, and soft. The grip holds up even in wet conditions. However, they are not the most suitable option for long rides when not wearing gloves.
Pros
Made from

durable resin that does not wear easily

The installation of these grips is very simple

You can choose the amount of cushioning you desire
Cons
You'll need to purchase the adhesive for use in installing separately

They are not intended for long-distance rides
FAQs
Question: Are all sportbike grips the same size?
Answer: Some sportbike grips are universal while others are designed to fit a certain size. The most common handlebar size is between 1-inch and ⅞-inch. To get the right fit for your bike, find a seller that allows you to search by your bike's make and model.
Question: How do I stop grips from slipping?
Answer: Handlebar grips can be prone to slipping. It's a common problem that many riders face. You can stop your handlebars from slipping by using isopropyl alcohol to make sure that the handle surface is clean. You can also use adhesive to secure them against the handlebars.
Question: Do I need grip puppies?
Answer: Grip puppies provide added comfort over your original grips. If your grips are hard and you need a little bit of extra cushioning, then grip puppies are a great addition. However, if you have grips that are comfortable and fit nicely to your hands, grip puppies won't make much of a difference.
Final Thoughts
Setting up your sportbike with new grips will not only make it safer but also more comfortable. To select the ideal grips, we have listed some of the features and factors you need to consider before making the decision.
We highly recommend the Renthal G149 black full diamond firm compound grips. They are not only a quality set of grips but will also make your sportbike riding experience better. Once you get yourself a set, you'll be able to go for a spirited canyon ride or enjoy calmer rides on your commute to work.