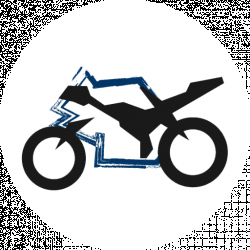 Latest posts by American Sport Bike Team
(see all)
Tall riders don't have much luck when it comes to finding a comfortable, well-fitting sportbike. People blessed with above-average height enjoy certain advantages in life.
For example, they don't have to crane their necks at large crowd concerts or having trouble reaching for things placed high on shelves. However, It's easy to overlook how tall people may find it difficult to do several things that regular-sized people can do with ease.  
Almost everything in the world is designed to fit those of average size. It may seem unfair, but that's how the economics of production dictates. Every motorcycle manufactured has to fit a larger segment of the population. Unfortunately, tall riders don't constitute a sizable number that may necessitate a dedicated assembly line.
Finding a sportbike that has your preferred riding position can be troubling. For the taller than average rider, it is important to look for a sportbike that will be the right fit.
A bad fit is only likely to make the riding experience uncomfortable. And with that, fatigue will set in sooner. Any rider will tell you that fatigue is a recipe for mistakes that likely lead to accidents. 
To avoid all of that, we will tell you all about the considerations you have to deliberate on to make your search for s sportbike easier. If you read on, we will also list for you six of the best sportbikes on the market that will easily accommodate your lanky legs.
How to Adjust a Sportbike to Fit a Tall Rider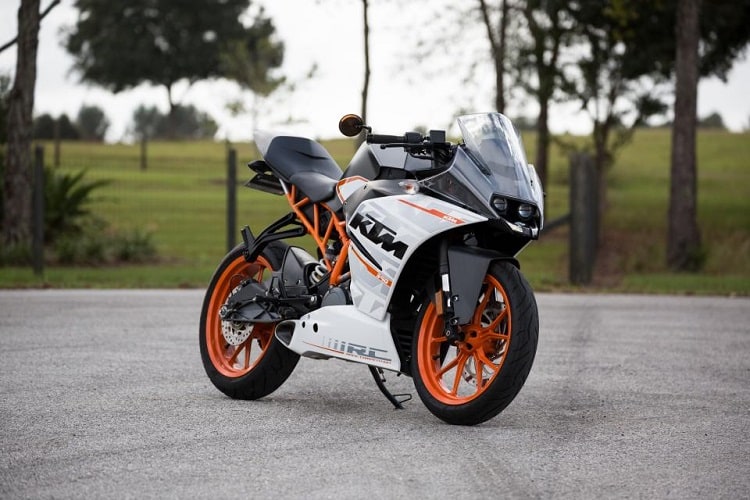 Sportbikes are not some of the largest bikes out there, so it's not that friendly to tall riders. It's unlikely that you will find a bike straight from the factory that is perfectly fitted for you.
Luckily, motorcycles usually have some room for adjustment. This is partly because mechanical parts may wear out unevenly. This is why manufacturers have made room for certain parts to be adjustable.
With a few simple hacks, you can modify your bike to be just that right size and well suited for your frame. Here's what you can do to adjust your sportbike to make it fit right.
Handlebar Riser
Standard handlebar configurations often do not consider the rider's height. How the handlebar is set affects the riding position or ergonomics as some call it.
A small change can make all the difference you need that suits your upper body and riding style. Switching the bar all together can involve a lot of time and effort. This is why we recommend fitting the bar risers.
Risers allow you to very easily raise the handlebars. Most riders make this modification for comfort, resulting in a more natural seating position. Before installing bar risers, it's important to note that the brake, clutch, and throttle cables are not the same for all bikes. Therefore, some risers may require longer cables.
Adjust the Suspension
The suspension is responsible for most of the handling aspects of your bike. The most outstanding characteristic is they dampen the impact of bumps when you ride.
Although manufacturers have default settings, they're aware that not all riders will fit and ride the bike in the same manner. Factors like the rider's weight can affect how much the bike sags whenever the rider sits on it.
Adjusting the suspension will allow you to customize the bike to your height and riding style. Especially if you have purchased a used motorcycle.
The previous may have tuned the suspension to fit their needs hence a change may suit you better. Keep in mind that some shock absorbers have locking mechanisms in place. You need to ensure that you have secured them whenever you finish making adjustments.
Things to Consider Before Selecting a Sportbike
Now that we have brushed up on the details you need to be aware of as a tall rider, It's time to look at the factors that will determine the kind of sportbike you will need.
While you may already have an idea of which bike appeals to you the most, keeping an eye on these factors will help to make the decision stress-free. Let us dive straight in and look at the important points to consider.
Engine Size
Sportbikes are generally available in a variety of engine sizes. It may seem simple to walk into a dealership and choose the correct engine size.
Truth is – It's not. A powerful sportbike can be anything from 600cc to the liter-class. There are even larger engine options but those should mostly be left to the seasoned pros. Engine size can be influenced by factors such as touring with a pillion, commuting, or track days. Choose the one with enough power to satisfy your needs.
Riding Experience
Riding a motorcycle is a dangerous activity. There is very little in safety structures to protect a rider in case of an accident. It's specifically for this reason that a rider – new or otherwise – should purchase a bike with a performance they can handle.
New riders are advised to stay away from larger displacement bikes. When you learn the ropes of riding on a slower sportbike, you'll not only become a better rider but also your skillset will have developed enough for when you're ready to upgrade to a faster bike.
New or Used
Again, you can also factor in your riding experience before deciding whether to get a used or new bike. The learning process can be a bit harsh for some, and dropping the bike a few times is not unusual.
You wouldn't want to have scars on a new bike, right? In this case, getting a used bike is recommended as you get used to the rigors of riding. Be careful not to get a faulty used bike that will burden you with repairs. Otherwise, a new bike will be more cost-effective to run in the long-term.
Budget 
It's easy to drift away even when you set yourself to work with a very strict budget. Once you have settled a sum, you can start searching for the model you want.
With new bikes, it's not always necessary to pay the screen price at a go. Some dealers will allow you to pay for the bike in installments, usually over several months.
You'll also have to factor in the cost of safety gear as well as bike maintenance. A renowned model may be more expensive than other lesser-known models, but not necessarily superior. Remember, don't make a rushed purchase.
6 Best Sportbikes for Tall Riders
Equipped with stiff chassis, slim profile, sticky tires, and a plethora of rider aiding accessories, these crotch rockets can blaze paved roads like no other type of bike can. If you want a bike that's fast, great at carving corners, and can on occasion take a pillion, then you need not look further than the sportbikes we have selected on this list.
Although most sportbikes can all seem the same, some of them may not be the best choice for tall riders. On the surface, they all appear fast, stylish, and thrilling. Selecting from a stacked field, we will feature sportbikes from Suzuki, KTM, Kawasaki, BMW, Yamaha, and Ducati. These may not be the outright best outright sportbikes available on the market but they will be a suitable fit for tall riders
#6. Kawasaki Ninja ZX-14R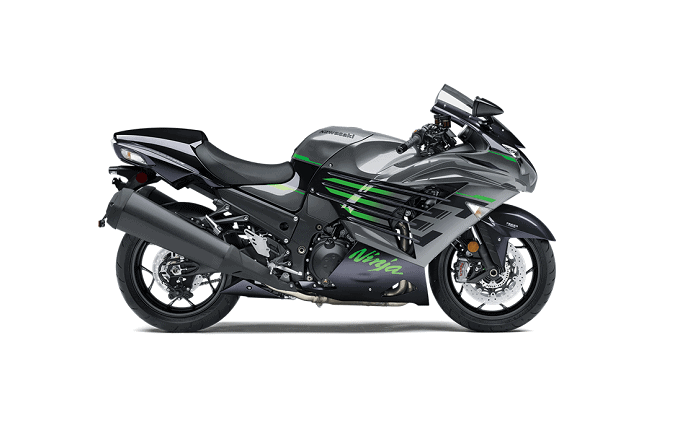 First introduced in 2006, the ZX-14R is Kawasaki's most powerful sportbike you can buy. It's one of the fastest, rocket-like performance bikes in the world.
Key Specs
Engine:

1,441 incline four-cylinder

Seat Height:

31.5 inches

Weight:

269 kilograms wet

Fuel Capacity:

21.9 liters
The Kawasaki is most certainly not the most expensive sportbike on the list, but it's easily the fastest in comparison to the other bikes on the list.
If you want to go fast, and by that I mean ridiculously and stupidly fast, then is one bike you should be aiming for. You won't find many contraptions of any kind capable of accelerating from 0 to 100 kilometers per hour in under 2.5 seconds as the Kawasaki can.
The design is equally stunning. Don't be put off by the charmingly obnoxious looks as the ride quality is certainly not a kidney-bruising affair.
It is a comfortable sportbike that feels at home on the track just as it is for your regular commute or the occasional touring. The ergonomics are very good to accommodate tall riders with excellent wind protection for a sportbike.
What We Like
Very powerful and capable engine

Stylishly and unique design

The handlebar can be adjusted for height

It is a versatile bike that can be used in the track as well for touring purposes
What We Don't Like
Not suitable for learners or riders with limited experience

Fuel economy is not good enough
#5. Yamaha XSR900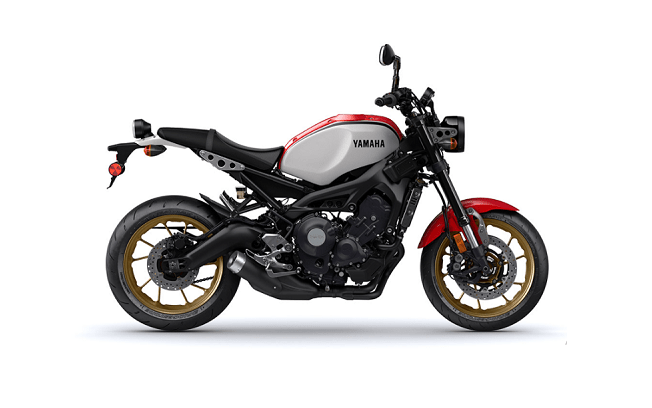 Developed by Yamaha in 2006, the XSR is a throwback to Yamaha's history of sportbikes mixed with a dose of modern cutting edge technology.
Key Specs
Engine:

847cc liquid-cooled DOHC incline 3-cylinder 4-stroke; 12 valves

Seat Height:

32.7 inches 

Weight:

195 kilograms wet

Fuel Capacity:

14 liters
Yamaha dug deep into its long history and experience of developing sportbikes to create the XSR900. The design of the bike can be described as neo-retro but there is nothing that feels old about the bike.
Under the retro styling, you will find that it rides with the same underpinnings as the well-liked MT-09. Even though it's only an 847cc, the engine is torquey and punchy enough to produce an exhilarating performance.
One thing tall riders will appreciate is how tall this bike is. The 32-inch seat height coupled with the sufficiently long reach to the handlebars creates a lot of room for tall riders to feel comfortable.
People over 6 feet can enjoy an upright sitting position making it a good fit for long riding days. The styling is aimed squarely for the classic-conditioned rider who to experience something closer to the cafe racers, albeit laced with modern technology.
What We Like
Three selectable power modes to suit any riding situation

Lightweight frames make it easy to handle

The front and rear suspension are adjustable

Easy to customize to your taste
What We Don't Like
Can be tiresome on the wrists after prolonged riding due to the forward-leaning position

Seats don't have sufficient padding which might sacrifice comfort on long days on the saddle

You won't be able to go far on one tank
#4. Suzuki SV650S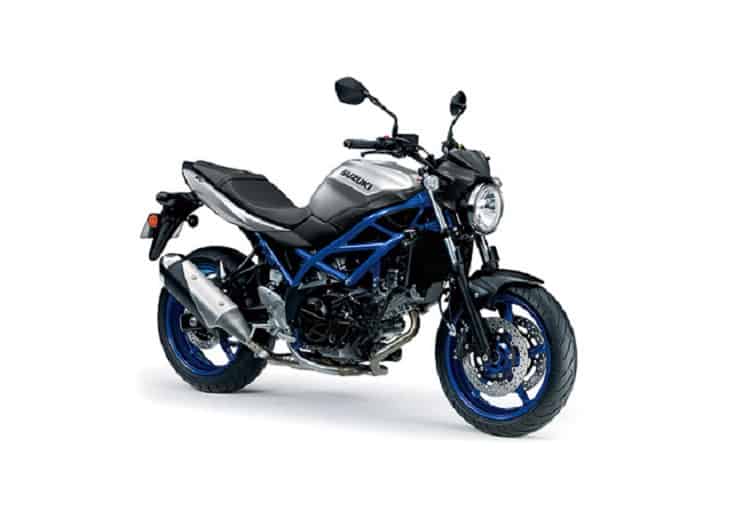 The SV650 has been around since 1999. Since then, it has undergone a series of gradual improvements while still maintaining it's renowned sporty character.
Key Specs
Engine:

645cc 4-stroke, 2-cylinder, liquid-cooled, DOHC

Seat Height:

30.9 inches

 
Weight:

198 kilograms wet

Fuel Capacity:

14.5 liters
The "SV" part stands for many things. The manufacturer describes it as a sporty v-twin, superior value, simple and versatile. We cannot argue with those views.
For over 20 years, the SV650S has been a darling of motorcycle reviews. Few bikes have the all-round ability the bike offers for such a practical value. It is happy as a serious carver of curvy roads just as it is competent on the daily commute. 
The engine delivers its 72 horsepower smoothly and linearly. Acceleration is snappy enough when you need it. Luckily, you don't need to rev too high to access most of the power.
The bike caters well to riders who are of above-average height. With its slim profile, riders will not feel cramped even after long journeys.
What We Like
Quick start ignition system

The fairings are aesthetically pleasing and aid in maneuverability 

Perfect for beginners looking to try out a big bike

Very light and nimble 
What We Don't Like
Some riders may find that the front forks are a little too light

Fuel consumption around town isn't great

Questions linger over the build quality
#3. KTM 1290 Super Duke R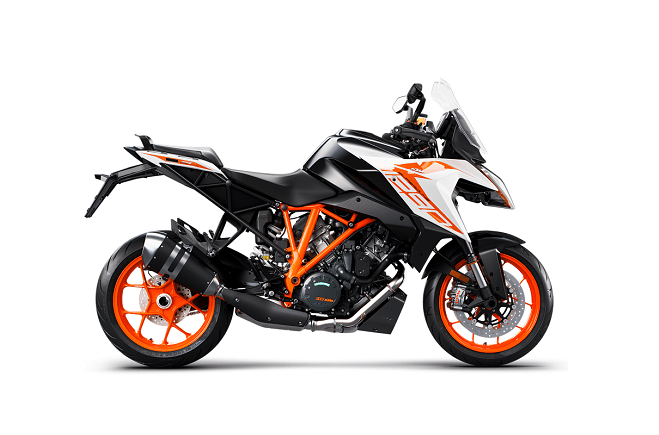 The KTM 1290 Super Duke R is the meanest naked bike to roll out of KTM's factory. It benefits from the manufacturer's involvement with MotoGP to produce one of the most powerful engines in its segment.
Key Specs
Engine:

1301cc 2-cylinder, 4-stroke v-twin

Seat Height:

32.8 inches

Weight:

210 kilograms

Fuel Capacity:

16 liters
KTM is one of the top naked sportbikes money can buy. With a history that stretches from 2014 when the 1290 Super Duke first appeared to when the 990 super duke revealed itself in 2005, you can be sure of KTM's expertise when it comes to matters sportbikes.
Despite the 1290 moniker, the beefy performance comes from a 1301cc v-twin engine. In total, the bike generates 180 horsepower of terror, enough to lunge the bike forward from 0 to 200 kilometers per hour in 7 seconds.
You need not worry about stopping either. The 1290 Super Duke R is equipped with Brembo M50 calipers that will squeeze into 320mm brake discs to bring the bike to a stop with minimum fuss. The 33-inch seat height will appeal to taller riders or those who have longer inseams.
What We Like
Highly capable all-round bike

Loads of power for all riding activities

Stopping power is excellent and dependable.

Build quality is what you would expect from a top-end sportbike
What We Don't Like
Wind protection at high speeds should be improved

 

Some owners may experience electrical problems which is a fairly common problem with the bike
#2. Ducati Multistrada 1260 Pikes Peak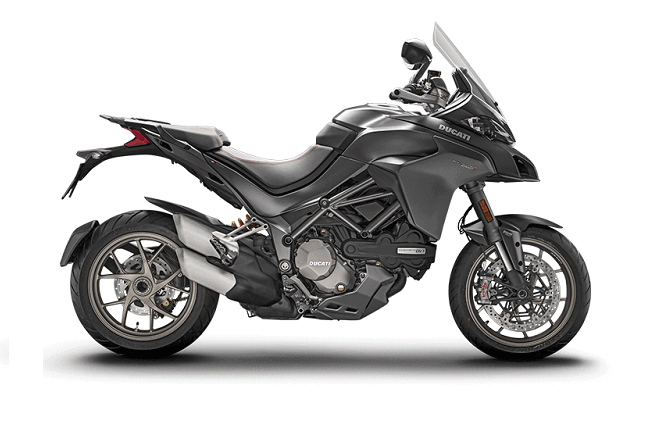 This Ducati model is named after the prestigious American hill climb racing competition, pikes peak. An event the Ducati has performed admirably in while also setting records in its particular segment.
Key Specs
Engine:

1262cc L-Twin cylinder, dual spark, liquid-cooled

Seat Height:

32.5 – 33.3 inches

Weight:

229 kilograms

Fuel Capacity:

20 liters
The Ducati Multistrada benefits from years of development owing to the manufacturer's investment in motorsports. Not only is Ducati known for their fearsome straight-line speed in MotoGP but their exploits at the Pikes Peak international hill climb are well documented.
This version of the Multistrada is Ducati's flagship multi-purpose bike with a focus on speed and handling. The Pikes Peak packs a lusty 158 horsepower from the 1262cc L-Twin engine. 
The bike is light on its feet and an open road, you can quickly dart from legal to uncharted territory as the bike happily bounds to the horizon. The bars are well-positioned for taller riders who will appreciate the neutral seating position. Another great feature is that the seat height can be adjusted to two pre-set levels.
What We Like
Hands-Free system for enhanced safety

Long service intervals are great for rider's peace of mind

The rider can select four riding modes in response to different road and riding conditions
What We Don't Like
The fuel tank sensor is prone to failure

The bike has issues with its throttle control system
#1. BMW S1000XR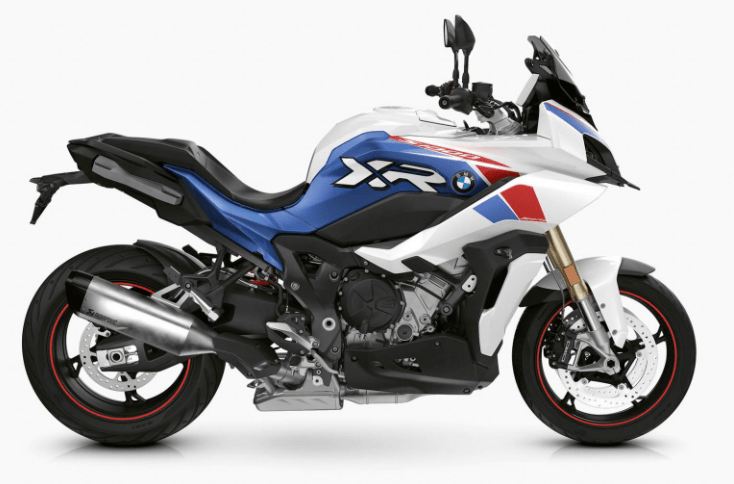 The BMW S1000XR was first introduced in 2015. It bridges the gap between the large adventure class of BMW's big touring bikes the race-oriented models.
Key Specs
Engine:

999cc liquid-cooled, 4-stroke 16-valve DOHC incline-four

Seat Height:

33.1 inches

Weight:

228 kilograms

Fuel Capacity:

20 liters
The S1000XR runs on a less potent version of the tried and tested engine found on the race-oriented S1000RR superbike. It can be best categorized as an adventure sports tourer.
But, don't let that put you off because the performance this bike can muster will leave most dedicated sportbikes struggling to keep up with this machine. Producing a claimed 165 horsepower, the XR is a rapid motorcycle in any language.
Handling is never an issue for such a large bike. Road holding is excellent with the ability to string a quick succession of corners without losing grip or experiencing negative feedback through the handlebars.
The longer travel chassis is a big plus for taller riders. The upright riding position is comfortable enough to make the XR  an agreeable long-distance tourer.
What We Like
The suspension is finely tuned to cope with different road conditions

The power delivery is smooth with no hint of hesitation off the line

The quick-shifter is smooth and works like a charm

Adorned with appropriately attractive styling
What We Don't Like
BMW servicing can be expensive

Some earlier models experience the vibration of the handlebars at highway speeds which can be unsettling
FAQs
Question: Which sportbike has the highest seat height?
Answer: Sportbikes come with various seat height measurements. Seat heights for most bikes can be adjusted to the desired fit of a rider. Aftermarket seats cater precisely to that. To find a sportbike with an excellent seat height for you, make use of ergonomics calculators to compare different models.
Question: Are bar risers universal?
Answer: Some bar risers are a universal fit for handlebars of a certain size. Beyond that, you may need customized bar risers that are designed to be a perfect fit for particular sportbike models.
Question: Can you be too tall to ride a sportbike?
Answer: While height may limit the choices to just a few sportbike models, you can adjust certain components to suit your height. Manufacturers cater for this by allowing riders to modify things like suspension, seat height and, bar height to create a comfortable riding position. There is a bike out there for everyone.
Question: How high should my sportbike seat be?
Answer: Seats can be high enough as long as it doesn't compromise your ability to stand both feet flat on the ground while seating on the saddle. You have to also take care not to go too high that your reach to the handlebars and the seating position is affected.
Final Thoughts
After reading our article on the best sportbike for tall riders, you're sure to know how to confidently select the perfect bike for you. As you can see, there are plenty of options available no matter your height. Take note that it is important to test the bikes first before you decide to make the purchase.
Even if you find out after a test ride that a sportbike doesn't fit you correctly, don't despair. Some manufacturers have an allowance to customize bikes to your size. Go for any of the sportbikes on our list and fire off those crisps gear changes as you enjoy the freedom that comes with riding. Ride on.