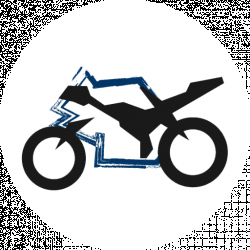 Latest posts by American Sport Bike Team
(see all)
What comes to your mind when you hear the name SuperSport bike? Many of us know that it's a medium-capacity motorcycle designed for racing. However, there is more than that and in this review, we will get to understand everything about the Ducati SuperSport. 
Might you be considering upgrading from a regular bike to this supersport machine? This adequately researched article is going to help you make an informed decision.
Before we delve deep into the Ducati SuperSport review, let us check the things to consider before buying a supersport bike.
Ducati SuperSport Buying Guide
Apart from personal preference for the bike's physical appearance, it is crucial to be aware of other factors that can adequately prepare you to make a better decision before and when getting a new or used SuperSport bike.
Considering the factors seriously is essential for everyone, especially to beginners, as we all know that a sportbike has no room for mistakes. One wrong move and you are left fighting for your life. The factors are as follows:
Are you a beginner or a pro racer?
It is important to go for a sports bike that accommodates your ability both for safety purposes and for that thrilling ride of your life. Hopping on any sports bike without experience is detrimental to your survival should you encounter a technical hitch.
Beginners are advised to go for ordinary low cc motorcycles and steer from sportbikes as they have massive engines, four cylinders. This is because it is easier to control a heavy low cc bike than a light high cc machine.
Therefore, before you upgrade to the fast beasts, ensure you have gained the necessary skills of operating a sports bike and adequate experience on the road.
New or used?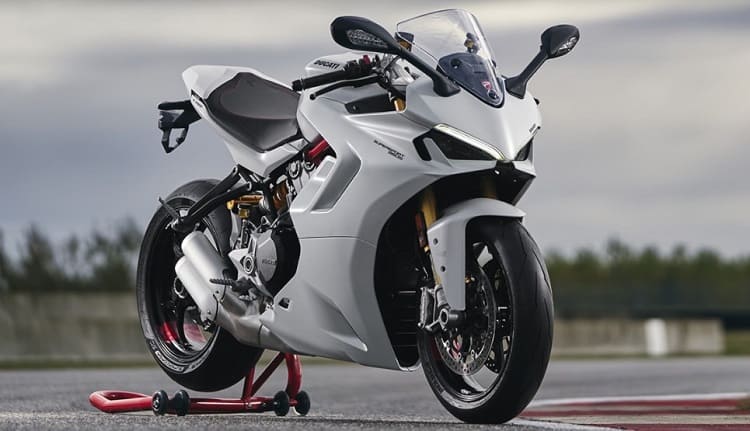 If you are purchasing a SuperSport bike for the first time, you might want to look at the second hand or used category. Why is this helpful, you may wonder?
As a beginner, you are likely to make mistakes. In the event of an accident, you are likely to bear a greater loss with a new machine than a used one.
Additionally, when you are shopping on a budget, you are likely to save some dollars by going for a used machine as long as you inspect it keenly and test drive before sealing the deal.
Safety gear
Riding a SuperSport bike is a matter of life and death. I am sorry to say so, but it is a fact. When budgeting on the amount to spend making a purchase, set aside 10% of the machine's cost to cater for safety gear. The safety gear pack consists of a helmet, boots, jacket, and gloves.
The most important of them all being the helmet. Invest in a comfortable and robust helmet and always replace it should you get into an accident and crash it.
Also, go for brands that produce quality and affordable wear to minimize the cost to be incurred generally. Also, a good brand enables you to look classy and sophisticated when you are cruising in the streets.
Maintenance cost
Before settling for a particular SuperSport bike model, ensure you can afford the cost of maintaining the bike. Some machines are expensive to purchase and even more costly to maintain.
Make a point of researching the price and availability of the SuperSport's spare parts before making your purchase. It will not make sense to acquire a bike whose parts will always require shipping in the event of a breakdown. Such a machine will ever inconvenience you while still milking your finances.
For SuperSport bike maintenance, a regular oil change is a must for the durability of the engine. Dirty oils can easily cause the engine to knock, hence, costing you a great deal. Also, keep in mind that the drive chain should always be cleaned, adjusted, and lubricated after every 500 miles of travel.
Where will you store the bike?
It is highly recommended that you store your bike in an enclosed garage. Preferably, a dry heated and metallic garage will do. Therefore, before deciding to buy a sports bike, storage should be on the top list of your considerations.
Proper storage will not only protect your machine from burglary but also from destructive rodents that can bite wires and other non-metallic parts of your bike.
Therefore, investing in a good storage room in motorcycle shelters will go a long way in saving you some loss if you don't have a garage.
Ducati SuperSport Review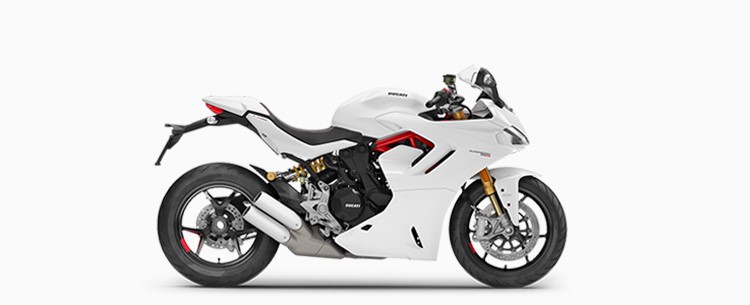 For the regular rider who has tested the Ducati SuperSport, he or she will attest that this new model has a more wide power spread and torque made for in-city use.
Perhaps many might wonder what is new about the Ducati SuperSport that was not present in the preceding models or its variant model, the Ducati SuperSport S.
The differences between the Ducati standard Variant and the S variant
The hardware
 It may not be obvious to tell this difference by just looking at the two models. Still, the Ducati base variant comes with a revised crankcase and cylinder heads for its engine.
At the same time, the SuperSport S variant comes with a standard bi-directional quick shifter topped up with a standard passenger cowl, which is also absent in the base variant. This, however, does not mean that the SuperSport loses when it comes to such noticeable features. The same quick shifter can be added to its body as an accessory.
Another difference between the variants is that the SuperSport S gets more athletic abilities thanks to its 48mm fully adjustable Ohlins fork. At the same time, the Ducati SuperSport is equipped with a 43mm Marzocchi. The Supersport S also gets the Ohlins single shock while the Ducati base model functions with Sachs.
Colors
With no further updates for both models for the year 2020, the other noticeable difference is that the base model comes in a fantastic Titanium Grey color. The SuperSport S shines in breath-taking Star White Silk and red color.
The Pricing of the Ducati SuperSport
While the Standard Model goes for $ 13,095, the SuperSport S requires more digging in the pocket as its purchase price stands at $ 15,395.
How the Ducati SuperSport differs from its competitors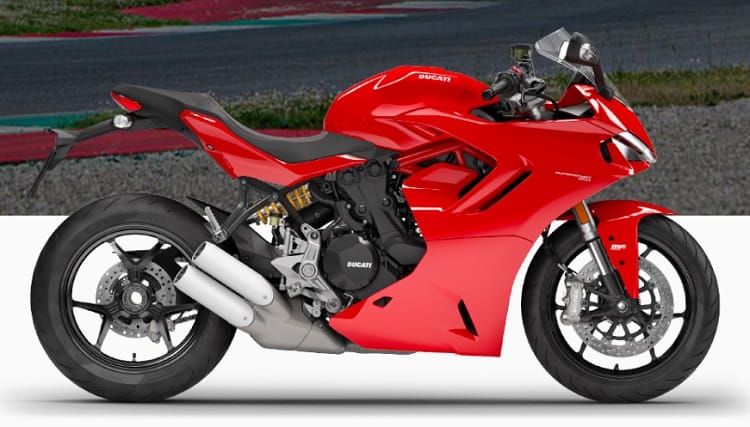 The Ducati SuperSport is claimed to be below the Ducati 959 Panigale, but it is not easy to tell this as the Ducati is not any less expensive than the Panigale series.
On the contrary, they tend to look quite similar, with the slight difference being noticed through the Ducati SuperSport's lower footpegs, a more upright riding position, and its adjustable and taller windscreen in height compared to the Panigale.
Additional differences are evident in the chassis, whereby we find the Ducati SuperSport borrowing the Monster's steel trellis frame chassis while the Panigale flaunts a Monocoque chassis.
The Ducati SuperSport and the S model are claimed to be more complete bikes than the Supersport 900 series. The reason for the claim is that the Ducati SuperSport is made for everyday commuting and touring while also traversing in the Canyons and doing great on the tracks.
Specifications Of The Ducati SuperSport
937 cc L-twin cylinder liquid-cooled engine

109bhp Maximum Power

93 Nm Maximum Torque Power

Six-speed Transmission

4.2 gallons of fuel capacity

210 Kerb Weight

58.3 inches wheelbase

43 mm and 48 mm inverted fork and fully adjustable front suspension for Standard Ducati and S model, respectively

Sachs Monoshock adjustable rear suspension for Standard Ducati and Ohlins fully adjustable mono-shock rear suspension for SuperSport S.

Chain final drive

120/70ZR-17 Front Tire

180/55ZR-17 Rear Tire
Features
Adjustable windshield

Ducati safety pack for everyday riding

Full-LCD instrument panel

Traction control

Bi-directional Quickshifter

3-level Bosch ABS

Multimedia system

DRL function headlight
Pros
Complete bikes made for everyday commute and racing capabilities

Improved engine

Improved ergonomics as seen in the lower footpegs and more upright riding position

Better traction control
Cons
It takes a longer time than required to switch between modes and settings.

Snappy throttle response
The mirrors being on short stalks make it hard for the rider to see what's behind, and he is frequently forced to pinch his shoulders for a better view.
The vibrations are also too much on the mirrors, increasing difficulty keeping a constant monitor of your rearview.
The Best Alternative To Dukati SuperSport
Kawasaki Ninja 1000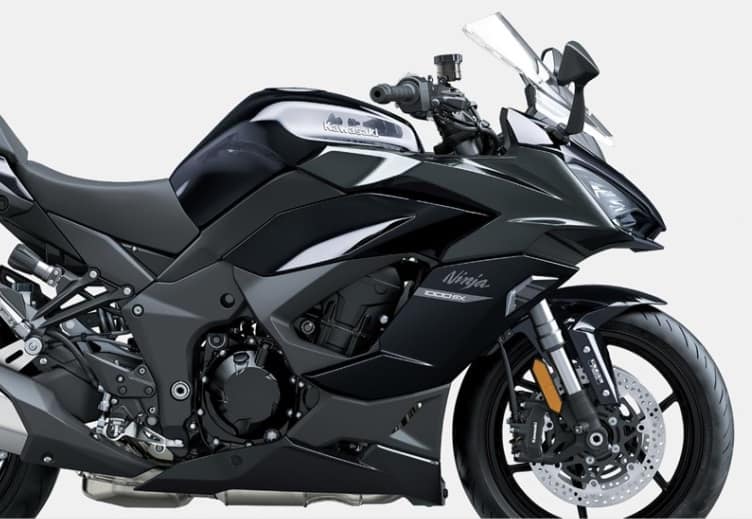 This Japanese bike is a huge competitor to the Ducati SuperSport as it manages to move at 140hp while still able to afford a smoother ride. Its styling and bodywork quality is top-notch, with powerful brakes and excellent comfort capability.
A few touches like the ergonomically well-done switch block controls, adjustable screen, and the ability to add luggage make the bike more outstanding and worth the price.
Additionally, the ZX-10R electronics added on the Kawasaki Ninja make it the most advanced sports tourer produced by Japan.
The Ninja is similar to the Ducati when it comes to its price tag and the multi-level traction in its control system.
However, the Ducati mercilessly beats the Ninja when offering its unique three ride modes, which include Touring, Urban, and Sport. The Ducati SuperSport boasts for being the only machine of its competitors to provide a fully adjustable and functional suspension.
Specifications
Four-stroke, four-cylinder, liquid-cooled engine

1043 cc displacement

[email protected] rpm Torque Power

19L Fuel capacity

11:8:1 compression ratio

Six-speed return gearbox

Chassis: Rake:24.5 degrees Trail: 102mm

Wet multi-disc clutch

1440mm wheelbase

LCD multifunction instruments.

120/70 ZR 17, 190/50 ZR 17 wheels and tires

Candy lime green and metallic Gray colors

Manually adjustable suspension
Pros
Splendid styling making the bike stand out from the rest of the competitors

Ergonomically built to offer utmost comfort

Powerful four in-line cylinders offer lightning speeds not seen in many competitors

Wind protection makes long rides comfortable
Cons
Idling issues hence stalling at some point.

It takes time to get used to the different feel of the front end when riding

Very uncomfortable riding on full power due to the amazing throttle

The engine lacks a quick shifter
Suzuki GSX –R1000R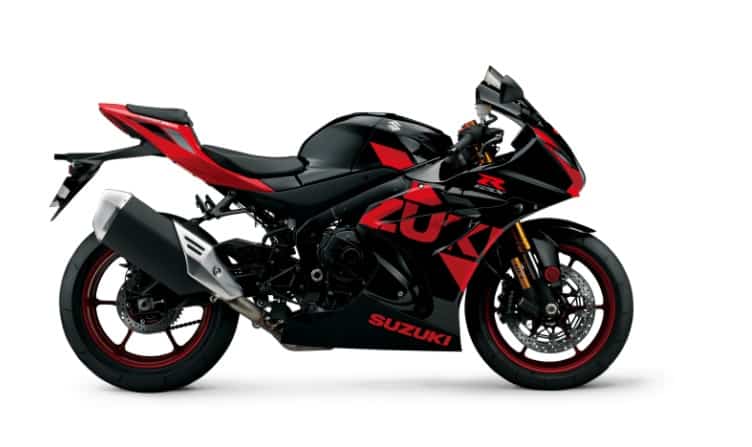 First and foremost, the Suzuki GSX puts itself ahead of its competitors with its 200bhp power, hard to beat. The new electronic additions also make it safer to ride while still being fun, fast, and refined.
To sharpen the look, the manufacturers have given the bike a compact beam frame made of aluminum and a longer swingarm.
Specifications
16v, in-line four-cylinder liquid-cooled engine

999cc Displacement power

87ft-lb Maximum Torque Power

199bhp Maximum Power

16 Litres fuel capacity

43 mm fully adjustable, Showa Big Piston forks front suspension

Single Showa, rear shock rear suspension that is fully adjustable

Single-disc and single-piston caliper rear brake

Brembo four-piston caliper front brakes

120/70 17 front tire size

190/55 17 rear tire size
Pros
Fast speeds even through corners

Fantastic wheelie control

Safe traction control when cracking the gas
Cons
Engine issues are likely to occur

Swift directional changes are hard to achieve

Thin paint issues like peeling sometimes are experienced
Frequently Asked Questions
Question: Are all Ducatis made in Italy?
Answer: It is fair to say yes. All Ducatis are made in Italy. However, some countries like Thailand and Brazil assemble bikes in their factories.
Question: Which is the best Ducati superbike to ever be made?
Answer: The Ducati Multistrada1200 is with no doubt the best of Ducati. From its ability to adapt to any terrain to its frontline technology, which allows the rider to adjust it to his/her preference, let alone its quality performance, the Multistrada is with no doubt the best.
Question: Which is the most common problem associated with Ducati bikes?
Answer: Often, the most reported issue to do with a Ducati bike is the malfunctioning electrical components. This is major because wires are prone to wear hence affecting the whole electrical component.
Question: Which is the best Ducati bike for beginners before upgrading to a supersport bike?
Answer: The Scrambler Sixty 2 is the recommended bike for every inexperienced rider out there. At under $8,000, the beginner can afford this machine that comes with a 399cc engine and 41 horsepower, which is easy to handle, especially when learning the basics of riding.
Conclusion
The Ducati SuperSport /SuperSport S is with no doubt the bike to spend your money on should you be an experienced rider looking to upgrade to the world of supersport bikes.
Its ergonomically built features will give you the comfort you need while still offering performance power for your daily commute racing on the track and even that adventurous ride off-track.
However, the beginners looking to buy the Ducati SuperSport bike are advised to start with the less powerful bike before upgrading to superbikes.
Handling a superbike is not a walk in the park, as one wrong move can send you to your maker. Ducati emphasizes safety, and for this matter, you will be required to have at least some training or experience before being allowed to hop on this machine and head to the race tracks.
Otherwise, with that said, I am confident that you are prepared to make an informed decision for your next Bike shopping. All the best.